Please select your dates to see prices:
---
The Wentworth in Jackson, New Hampshire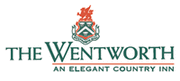 As if torn from the pages of some happily-ever-after novella, The Wentworth is an elegant and historic inn in New Hampshire, and has all the trappings of a perfect romantic getaway. First and foremost, its location in Jackson, in the heart of the White Mountains, offers privacy and seclusion. The selection of luxurious accommodations include rooms and suites with hardwood floors or plush carpeting, sleigh or four-poster beds, fireplaces, whirlpool bathtubs designed for two, and private outdoor hot tubs. The inn's dining room can only be described as one of the region's most elegant with a menu to match. Dress for dinner and make your way to a table for two where a succulent meal of fresh regional fare is paired with a thoughtful and impressive wine list.
While the New England countryside immediately conjures up images of ski togs and hot toddies - and rightfully so - the summer months are also filled with an abundance of outdoor activities. Meadows once covered in snow are filled with blankets of wildflowers inviting passersby to enjoy an impromptu hike or delightful picnic lunch. You may want to consider fishing, biking, golfing or canoeing along a mountain stream. Take a scenic drive through covered bridges, stopping at quaint villages to peer inside antique shops. Serious shoppers will want to take advantage of the tax-free designer outlets nearby. Summer nights may even be better than their daylight counterparts with crisp mountain air that is invigorating and a sky filled with stars.
Location of The Wentworth
The Wentworth
1 Carter Notch Rd
03846
Jackson, New Hampshire
Nearest Airport: PWM
Amenities for The Wentworth
General Information
51 Guest Rooms
Dining
Restaurant
Bar & Lounge
On-Site Amenities
Tennis Courts
Outdoor Whirlpools
In-Room Amenities
Direct Dial Telephones
Satellite Television
Televisions
Whirlpool Bathtubs
En-Suite Bathrooms
Activities
Bicycling
Fishing
Hiking
Tennis
Canoeing
Cross Country Skiing
Nearby
Shopping
Golf
Antique Shopping
Interests
Food & Wine
Golf
Honeymoons & Romance
Reviews for The Wentworth
---
My wife and I had stayed at The Wentworth once before and knew it would be a perfect overnight (kid free) get away! The experience lived up to our expectations and then some. The breakfast and dinner that were included with our room were great! We called last minute Sunday evening in hopes of booking a couples massage early Monday morning before we left. The Wentworth delivered and the massages were just what we needed to cap off a very relaxing experience. We will definitely keep coming back to The Wentworth.
kswiss3 - Whitinsville, Massachusetts
---
Last week was my husband and I's 4th annual visit to the Wentworth for a getaway. We've gradually updated in room over the years and this was our second time staying in a Thornycroft Suite with private hot tub. We also stayed two nights instead of one and it was well worth it! The off-season dinner and breakfast package always exceeds our expectations, rooms are beautiful and private, and the staff is always incredibly welcoming. Excellent stay, as always, already looking forward to next year's return!
---
Exceptional hotel and service! I will recommend to anyone looking for a weekend away, the service was great and the rooms were clean and very accommodating. The private outside hot tub overlooking the mountains is an added bonus!
Patti A - Salem, Massachusetts
---
We stayed the weekend in the Thornycroft suites. This was our second time visiting this beautiful Inn, and it was another relaxing stay. Frank and Susan at the desk were so helpful, and accomodated my last minute request for surprise lemon cupcakes. The piano bar was fun on St.Pattys Day weekend as well. We paid cash for our drinks, but were charged a different price for each round (despite ordering same drink). We enjoyed breakfast daily and it kept us full for our day's activities. Room was clean and we enjoyed the hot tub and surround sound in the room. We plan on making this a yearly tradition. Another great stay!
Mamaneedsagetaway - Charlton, Massachusetts
---
We began in a first floor King room, which we had reserved through an outside website. I recommend booking through the hotel, after viewing all of their room choices, and requesting the type of room you would like. After we realized we could hear the people above us, the hotel was willing to find an upper floor room that was quieter. Normally, I would have requested this specifically, but the outside website did not permit such requests. Our room was exceptional with a separate sitting room and an outdoor private hot tub. It was extremely quiet and comfortable, as well as attractively decorated, clean and well-equipped. We will definitely return and pay a little more to get a similar room. Finally, the hotel itself is lovely, and the staff very pleasant.
HinghamAnne - Boston, Massachusetts
---