Please select your dates to see prices:
---
Brewery Gulch Inn in Mendocino, California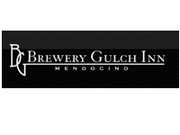 Off California's Hwy 1 is Brewery Gulch Inn, a retreat nestled between redwood forests, dramatic Pacific cliffs and a verdant mosaic of vineyards. Proprietors Guy and Sarah Pacurar have forged an idyllic respite made of timber reclaimed from the Big River and populated with Arts and Crafts furniture, in an ecosystem they actually strive to improve by regenerating the land and encouraging bio-diversity. Otters and harbor seals frolic in the waters below as deer dash through the forests. To watch the sun set over this coastline is something extraordinary.
Wake up to the hotel's special eggs benedict on homemade English muffins and custom-roasted Black Oak blend coffee. Trace Highway 1 to Mendocino Coast Botanical Gardens, where a fern canyon, rhododendrons, roses, deer and osprey populate the wild coastal bluffs. Continue up the road to Noyo Harbor, lunch at Herons by the Sea in sight of the fishing and Coast Guard vessels passing by the village. Enjoy a horseback ride on the beach at the Ricochet Ridge Ranch: one of Outside magazine's top 25 trips of a lifetime. Upon your return to the hotel, enjoy wine hour by the monumental four-sided glass and metal fireplace. Finish your day at the Headlands Coffee House with the local kids, artists, and couples, then wind down by your in-room gas-burning fireplace.
Location of Brewery Gulch Inn
Brewery Gulch Inn
9401 North Highway One
95460
Mendocino, California
Nearest Airport: SFO
Amenities for Brewery Gulch Inn
General Information
10 Guest Rooms
Non-Smoking Property
Ecologically Sustainable Practices
Only 12+ Years Recommended
Handicap Accessible Rooms
Pets Not Permitted
On-Site Amenities
Complimentary Newspaper
Library
WiFi
Gardens
Music & Movie Library
Lounge
In-Room Amenities
Bathrobes
Direct Dial Telephones
DVD Players
Satellite Television
iPod Docks
Flat-Screen Televisions
Luxury Linens
Luxury Bath Amenities
Individually Designed Rooms
Private Decks
Activities
Fishing
Hiking
Wine Tasting
Nature Walks
Whale Watching
Nearby
Wineries
Restaurants
Parks
Theatres
Vineyards
Interests
Food & Wine
Inns
Reviews for Brewery Gulch Inn
---
A cosy getaway with outstanding staff, food and wine. The Main room is very comfortable, a fire always, great place to read or to meet fellow travelers. There is an extensive DVD library for in-room watching.
Derek94904 - San Francisco, California
---
We have been to Brewery Gulch several times over the years and it just get's better every time. The large gathering room on the first floor complete with a massive fireplace sets the tone for the warmth and friendliness that makes your stay so special. Guy and the staff go out of their way to make certain your every request is met and your stay is memorable. Our favorite rooms are on the top level, fireplace, king size bed, every amenity, very comfortable and a view that is breathtaking. The Inn includes two meals as part of your stay: an exceptional breakfast with daily specials, homemade muffins and local produce. The dinner meal includes wine chosen for that evening and a meal again with local foods and homemade desserts. It is a romantic, restful place for a special occasion or a quiet getaway. We have traveled to Europe and beyond and Brewery Gulch never disappoints Enjoy!
lovers1102 - Venice, Florida
---
This was a hidden gem . I was so surprised by the quiet and friendliness of the place. Elijahs kindness and the way he made us feel at home. The rooms are beautiful and clean made you feel at home. The ginger ade is wonderful.
---
This was our 5th visit to the Inn and it only gets better and better. Every time we return we find a new addition (landscaping, paths, renovated parking lot, etc....along with upgrades within the Inn...nothing is allowed to get rundown or shabby. The entire staff is warm and welcoming. Guy and Steven go out of their way to assure you have a wonderful experience. Views from Osprey are beautiful, as are the views from the dining room/lounge. Food is excellent, both at breakfast and the dinner buffet. I already miss my trip downstairs for coffee and pastry at 7:30am. This has always been an annual trip, however this year we decided to make it a twice a year occasion .
kathy1952 - orinda, california
---
This place is really a missed opportunity! The photos make the place appear as if it's on the water. It is NOT. But it does have views. It's set back on a hill on the main road to Mendicino. The road is a bit busy so I'd recommend driving to the beach and the village of Mendocino. Both are close by. This is definitely more of a B&B, NOT an Inn. There is NO restaurant, just a buffet set out in the EARLY evening from 5:30-6:30. Dinner was truly awful, warm chafing dish of tiny pieces of chicken in gravy. We didn't even recognize the side dish and dessert was a clumpy cold flan. Oddly, ALL staff leave the place RIGHT after dinner so by about 7:00 they close up shop and you are definitely encouraged to finish up, so they can go. Then it's desolate. At a real Inn, and at these prices, there would be someone to serve after dinner drinks and you would be encouraged to enjoy the fire in the lovely space, not rush up to your rooms. They should either drop the room prices (this was out of season) and have a restaurant for a real meal with a menu and table service, or skip serving dinner all together. With the limited dining opportunities in the area, decent food and the beautiful views from this space, I think they could attract outside diners as well. Our rooms were nice with comfortable beds and a small sitting area, but only a few rooms have water views. Breakfast was better. Fresh baked pastry, friendly table service, delicious meals cooked to order and served in the great room overlooking the lovely views. Unfortunately, the way the furniture is set up, only half of your party will actually face the view. This is an Easy fix. When you enter the "Inn" there's a small open shop area with shirts and Knick knacks for sale. The items aren't even local and this messy display definitely takes away from the otherwise lovely design of the open space and the beautiful handcrafted fireplace front and center. It wouldn't take much effort to elevate the experience here. The question remains, are they interested enough to do that?
bldit2 - San Francisco, California
---