Please select your dates to see prices:
---
Brewery Gulch Inn in Mendocino, California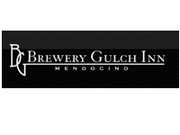 Off California's Hwy 1 is Brewery Gulch Inn, a retreat nestled between redwood forests, dramatic Pacific cliffs and a verdant mosaic of vineyards. Proprietors Guy and Sarah Pacurar have forged an idyllic respite made of timber reclaimed from the Big River and populated with Arts and Crafts furniture, in an ecosystem they actually strive to improve by regenerating the land and encouraging bio-diversity. Otters and harbor seals frolic in the waters below as deer dash through the forests. To watch the sun set over this coastline is something extraordinary.
Wake up to the hotel's special eggs benedict on homemade English muffins and custom-roasted Black Oak blend coffee. Trace Highway 1 to Mendocino Coast Botanical Gardens, where a fern canyon, rhododendrons, roses, deer and osprey populate the wild coastal bluffs. Continue up the road to Noyo Harbor, lunch at Herons by the Sea in sight of the fishing and Coast Guard vessels passing by the village. Enjoy a horseback ride on the beach at the Ricochet Ridge Ranch: one of Outside magazine's top 25 trips of a lifetime. Upon your return to the hotel, enjoy wine hour by the monumental four-sided glass and metal fireplace. Finish your day at the Headlands Coffee House with the local kids, artists, and couples, then wind down by your in-room gas-burning fireplace.
Location of Brewery Gulch Inn
Brewery Gulch Inn
9401 North Highway One
95460
Mendocino, California
Nearest Airport: SFO
Amenities for Brewery Gulch Inn
General Information
10 Guest Rooms
Non-Smoking Property
Ecologically Sustainable Practices
Only 12+ Years Recommended
Handicap Accessible Rooms
Pets Not Permitted
On-Site Amenities
Complimentary Newspaper
Library
WiFi
Gardens
Music & Movie Library
Lounge
In-Room Amenities
Bathrobes
Direct Dial Telephones
DVD Players
Satellite Television
iPod Docks
Flat-Screen Televisions
Luxury Linens
Luxury Bath Amenities
Individually Designed Rooms
Private Decks
Activities
Fishing
Hiking
Wine Tasting
Nature Walks
Whale Watching
Nearby
Wineries
Restaurants
Parks
Theatres
Vineyards
Interests
Food & Wine
Inns
Reviews for Brewery Gulch Inn
---
We were in the Serenity Cottage. It is everything that's advertised and then some! If you seek total privacy, beautiful environment, and all comforts, this is it. The inn itself has a beautiful lobby, great outdoors, and very friendly staff. Great food too, and they responded to our special diet needs.
---
Guy and his staff always spoil us and treat us like we are at home. The food is AMAZING. With the included full breakfast, snacks, and light dinner buffet (there is nothing light about the buffet), for our 4 nights here, we never went out to eat. We were so full after breakfast, and by the time we ate at dinner buffet hour (with included beers and wines) we really never ate out for the 4 days. Guy and Sarah have started a wine line, and I made sure to buy EVERY SINGLE ONE that they offer. We switched rooms and stayed at their newly remodeled Manzanita downstairs our last night. The soaking tub and separate shower were AWESOME...he needs to do these soaking tubs in all the rooms. I have never experienced one and it looked small for this 6ft1in tall guy, but once sitting and soaking in the hot water, I actually fell asleep watching the waves and enjoying the quiet soak. We can't wait until we return. The pictures I included are just a small taste of what we experienced, if I could i would post all our food it was amazing! The shrimp crepes special for breakfast I just had to have more than once. And my wife who doesn't do seafood they did a nice sausage and rice platter for her. We can't wait until we can return, next time, one full week!
jamaicabitty - Morro Bay, California
---
My husband and I enjoyed a midweek getaway at Brewery Gulch Inn and enjoyed it. The setting is wonderful -- I seem to forget how beautiful the Mendocino area is until visiting it again. The Inn is in a quiet location on the inland side of the highway with a lovely view of the water below. While the rates seem high, since a beautiful breakfast and a wonderful wine and light dinner hour is included each day, it is well worth the price. The only negative was noise at night from the guests in the room above us on the first night and some from the housekeeping area behind our room.
---
My husband and I absolutely love this place. We stayed here on our honeymoon and just revisited for our 10th anniversary. Everything was just as perfect and magical as we remember. The staff really pays attention to every detail. There is not a smudge on the wall or a scratch on the floor. Everything is so beautiful, from the decor to the view, to the lotions and bath soaps. And the breakfast...holy moly do not skip this. The Millionaire's Bacon is to die for!! And so is everything else. The evening "light" dinner was more than enough. We planned on going out to a later dinner both nights but ended up being full and not needing to leave. We look forward to returning, and hopefully it will be sooner than 10 years!
adincollver - Stanwood, Washington
---
We have stayed at BGI many times and we never tire of it. We stay here every year for our anniversary and the staff at BGI take such good care of us. The staff is so thoughtful and caring. I have many dietary restrictions and the chef always takes care of my needs. They are so attentive to details. It makes me feel like I'm home and being cared for by my mother. Too sappy? Sorry, but it's the truth. This is why we keep returning. In addition to the attentive care, the rooms are plush, comfortable and every detail is taken care of. Really, this place rates 11 out of 10 on my list. Barb & Gary C.
barbracrumley - Walnut Creek, California
---