Please select your dates to see prices:
---
Madewood Plantation House in Napoleonville, Louisiana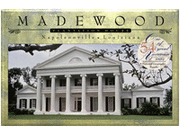 The Madewood Plantation House invites guests to feel as if they are attending a gracious Louisiana antebellum house party. This National Historic Landmark is a splendid mansion once part of a sugar cane plantation, just 75 miles outside of New Orleans. With eight lovely bedrooms, located in the Main House and Charlet House annex, this is a sublimely intimate holiday experience for those who simply want to enjoy the pleasures of fine Louisianan hospitality. Gather in the elegant library for a wine and cheese reception each evening, then enjoy a relaxed candlelight dinner, replete with Southern specials such as chicken and andouille gumbo, Cajun shrimp pie, smothered green beans and homemade bread pudding or pecan pie. Swap stories in the spacious parlor over a brandy, then retire to your private quarters for a night well slept.
The plantation is ideal for exploring some of the most vibrant destinations in the American South, beginning right on the property with a tour of the mansion itself. Madewood Plantation House is one of the largest of its kind in all of Louisiana, and as a guest you are invited to make its rich history your very own. From a day spent reading under the genteel oaks or playing a leisurely game of croquet on the lawn, you are sure to discover the true definition of Southern comfort.
Location of Madewood Plantation House
Madewood Plantation House
4250 Highway 308
70360
Napoleonville, Louisiana
Nearest Airport: MSY
Amenities for Madewood Plantation House
General Information
8 Bedrooms
On-Site Amenities
Library
High-Speed Internet Access
Porch
In-Room Amenities
Air Conditioning
Bathrobes
CD Players
Ceiling Fans
Hair Dryers
En-Suite Bathrooms
Nearby
Historic Sites
Restaurants
Antique Shopping
Theatres
Interests
Culture & Arts
Holiday Hotel Deals
Reviews for Madewood Plantation House
---
Amazing splendid house with a great atmosphere. We were just 4 to spend the night there and got the house just for ourselves. Amazing! We stated the evening with a cheese and cocktail (wine) start then had dinner in the amazing dining room and finished with a brandy in the men's room. Unforgettable evening! In the morning the hostess brought us some coffee we could enjoy on the front balcony of the house, definitively a travel in time. I strongly recommend the stay in Madewood, it is so authentic!
vernonhongkong - Hong Kong
---
If you are looking for a vintage Southern Plantation to home base an adventure or a romantic getaway or host a genteel event- the Madewood Plantation House is perfect. It is the 2nd largest plantation house in Louisiana, not commercialized , quiet, and set in the countryside. The location - just a few miles from Thibodeau is ideal because it allows for the serenity of the country side but quick access to roads leading to other plantations & sightseeing venues. It's about an hour from New Orleans & 45 minutes from Baton Rouge. The house has 28 rooms with varying bed configurations (most up stairs). You would need to be able to climb 2 flights ( there is at least one bedroom downstairs) - all are in-suite. Breakfast & a 5- course dinner are included- truly outstanding meals. Angie is the manager & chef- her meals outshine other 5 star restaurants!! Wine & cheese are served nightly at 6:00 & dinner at 6:30. Coffee is brought to your room ( the weather was great so we had ours on the back porch) at 8:00 & breakfast is served at 8:30. Angie is also a wealth of knowledge of where to go & what to see. Keith Marshall, owner lives on the property & had breakfast with my sister & me the first morning- great talker. My sister & I made the trip here from Houston to celebrate our birthdays (we're twins). We wanted to be spoiled & Madewood House exceeded my expectations!!!
---
We had a group of 8 and visited Madewood for lunch and a tour. I didn't realize it would be a private lunch just for our group, which was a nice surprise. The food was good and the tour was enjoyable. We learned Beyonce had filmed a music video here and the movie "The Beguiled" was also filmed here. The day we visited it was cold outside, so we did not have a chance to tour the grounds.
FamousAmos27 - Morristown, Tennessee
---
Four of us stayed here in the main house. Yes, the place is really old, but that's what we came for. It felt like such a privilege to sleep in the four poster bed, eat breakfast and dinner at the grand dining table, sit (carefully) on the Beyoncé chair and Saunders about the place. A bit like sneaking behind the velvet ropes in s museum and actually using all the artifacts. Dinner and breakfast are served at set times because all guests dine together at one table in the dining room ( which is lovely and very social) This wouldn't work if people arrived at different times. We thought it was very reasonably priced,too.
tokyoexpat - Sydney, Australia
---
We stayed here on our road trip through the south, and it will be, I am sure the highlight of our trip! The grand home is comfortable, and yet authentic southern plantation style. The owners Keith and Millie Marshall joined us for dinner with the other guests, and the conversation flowed magically for over four hours. The meal, from the wine and cheese to the bûche de Noël dessert was artistic and wonderful! We will no doubt make a return trip, and we will highly recommend the experience!
Sunshine1483 - Fairmont, Minnesota
---