There are no rooms available for this property, at this time.
---
La Bandita Townhouse in Pienza, Tuscany, Italy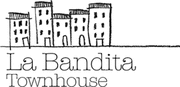 At La Bandita Townhouse, perfection happened in the Renaissance. Since then, no one's felt compelled to try to improve upon the Tuscan cobblestone alleys, stucco facades or olive groves and vineyards. The region is a legendary paradise, and the hotel offers an enclave within it – built out of stone, furnished for the chic and always offering a plate of simple, memorable, local cuisine.
Set out from the Tuscan hills and alight upon the town of Pienza, named a UNESCO World Heritage Site. Tour the valley by bike, taking in the undulating landscape of ancient Sangiovese vines. Return to the hotel and hang out in the kitchen with owner John Voigtmann and the other guests to rehash your day over a glass of Montepulciano. Dine on grilled lamb cutlet with rocket salad in the townhouse restaurant, followed by "Not Your Grandmother's Tiramisu."
Location of La Bandita Townhouse
La Bandita Townhouse
111 Corso Rossellino
Pienza, Tuscany, Italy
Nearest Airport: FLR, FCO
Amenities for La Bandita Townhouse
12 Rooms
Hiking
Wine Tasting
Complementary Use of Bicycles
Sightseeing
Reviews for La Bandita Townhouse