Please select your dates to see prices:
---
Mahogany Hall Luxury Boutique Resort in San Ignacio, Belize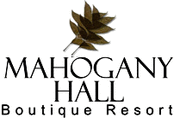 A stately plantation-style mansion on the banks of the languorous Mopan River in Belize, Mahogany Hall Luxury Boutique Resort offers an exclusive glimpse into an unhurried life where simplicity and leisure reign supreme. Set aside in the discreet village of Bullet Tree, this quiet, eco-friendly resort in the breathtaking San Ignacio region of Belize sets new standards in service, accommodations, and amenities, with just eight spacious rooms and suites, on-site dining, and a glistening infinity pool. The tropical breeze carries the fragrant aroma of the rainforest through the hotel, while accommodations boast vibrant Caribbean touches, including shared veranda overlooking the palms, carved mahogany furnishings, and exotic local art and handicrafts. Pristine private bathrooms in deluxe suites feature private Jacuzzis with breathtaking river views. At Mahogany Hill, you are top priority: the staff caters to your every need with personalized service and a warm smile.
Serene and scenic, the grounds of the property envelope you in the beauty of nature and the tranquility of your surroundings. Lounge along the jade-colored Mopan in an inner tube, or if you feel adventurous take a lesson in boogie boarding. Lounge riverside in a swaying hammock or sit poolside as the attentive staff offers an endless supply of cocktails and appetizers. Choose your own adventure tours through local caves and Mayan ruins, or explore your vacation home on horseback. With a unique menu drawing inspiration from Mayan and Caribbean cultures, Rico's Restaurant & Bar is the ideal place to get a taste of Belize. Meals are prepared lovingly with farm-fresh produce, and other locally provided ingredients. Delectable vegetarian options are also available, and you are encouraged to express your individual dietary needs, because, no matter what your preference, you deserve the finest dining. Providing an experience that is almost ethereal, Mahogany Hall Luxury Boutique Resort is everything you want from a luxury vacation—and so much more.
Location of Mahogany Hall Luxury Boutique Resort
Mahogany Hall Luxury Boutique Resort
Bullet Tree Village
501
San Ignacio, Belize
Nearest Airport: BZE
Amenities for Mahogany Hall Luxury Boutique Resort
General Information
Pet Friendly
Dining
Outdoor Dining
Private Dining
Bar & Restaurant
On-Site Amenities
In-Room Spa Services
Outdoor Spa Treatments
Infinity Pool
Wedding Planning Services
In-Room Amenities
Turndown Service
Air Conditioning
Ceiling Fans
Satellite Television
Complimentary WiFi
Activities
Fishing
Hiking
Kayaking
Canoeing
Boogie Boarding
Cultural Tours
Bird Watching
Nearby
Historic Sites
Zoo
Museums
Interests
Active & Adventure
Culture & Arts
Eco Friendly Luxury Vacations
Honeymoons & Romance
Reviews for Mahogany Hall Luxury Boutique Resort
---
Thanks to Marsha and her staff we had a great visit! The hotel is beautiful and situated right on the river, pictures are accurate! We were here for my birthday and the staff went out of their way to make sure we enjoyed our visit. We had multiple meals here and food was incredible each time. We were a bit last minute with our planning but Marsha was able to book us on some great tours, to Xunantunich and Barton caves, definitely recommend! The hotel is about 10 minutes from town and easily accessible by taxi. Thank you again marsha!
---
For a place off the beaten path, this place was amazing. Staff was so nice and all of our expectations were def met. Clean, beautiful and right infront of the river. Colonial style place. i would definately stay here again. best place by far if you wanna stay near San Ignacio but not in town!! highly recommend
---
The hotel is nice, but unlike others our rooms were small, and had an odor. It was hard to get past that. Our rooms, off the balcony, on the second floor both needed new mattresses. The staff is fabulous, but I thought overpriced for a poor bed, and funky odor.
---
We stayed here for 4 nights in November and it was absolutely amazing. The staff is absolutely amazing. We were welcomed with a nice cocktail in the beautifull mansion, situated right at a river. All meals we had at the beautifull patio overlooking the (bit brisky) swimming pool and the river. The food is truly amazing! Best we had in all of Belize. We were the only ones staying there and Marsha, the general manager, gave us a fantastic upgrade to the most wonderfull suite. With a jacuzzi! We also enjoyed a wonderful private dinner at the river banks, surrounded by candles and rose petals. A magic place where i popped the question! We had 1 amazing day tour to Tikal arranged by the hotel (through Edwyn tours, i thought), this is highly recommended. And last but not least, in a country where homosexuality is not as accepted yet as it as back home in Europe, we felt very welcome all of the time. This place is truly gay-friendly in case you are wondering! A big thank you to the staff, we hope to come again!
---
We stayed here this past Christmas and from the moment we arrived we felt the calm and beauty of Belize in front of us. Mopan River flows right in front of this boutique property and immediately the sounds of the city, airports and people are replaced with sounds of the swirling river. Tucked away from the town of San Ignacio (10 mins drive away) this is the perfect place to be enveloped by nature and it's surroundings. Our room was the Colonial Suite and faced the river. In fact all 8 rooms in this boutique hotel faces the river. The feel of old elegance and charm welcomed us. Manager, Marcia and her husband Chef Joseph made our stay cosy, very welcoming and appetizing. The location is truly idyllic if you are looking to escape the dusty city and in need of some tranquility on your vacation. Some repairs are needed but overall a classic beauty that brings you back to a time of simpler life and uncomplicated elegance. This is a gem that is waiting to be discovered.
Gerrygym - Toronto, Ontario, Canada
---