Please select your dates to see prices:
---
El Silencio Lodge & Spa in Bajos del Toro, Costa Rica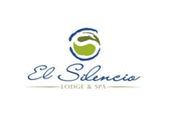 Located on 500 private and lush acres, punctuated with hidden waterfalls and a tropical cloud forest, El Silencio Lodge & Spa is a cutting-edge eco-retreat in Costa Rica. Ideal for honeymoons, relaxation getaways and wellness travel, come to this secluded hideaway to release the stress and tension of everyday living . Named to the Condé Nast Traveler Hot List and top the Travel + Leisure It List, this acclaimed resort is a sensory experience and a destination where the sounds and sights of nature prevail over everything. El Silencio Resort & Spa features an environmentally-immersed spa, organic cuisine and deluxe meditation rituals - all with the purpose to renew and re-energize its guests.
The 16 zen-like suites appear to be one with their surroundings, with each abode resting on stilt-like pillars to ensure the natural topography remains uninterrupted. The suites contain ceiling tiles crafted from bamboo, wood floors cut from wide planks, ambient and energy-efficient lighting, gas fireplaces and expansive viewing decks to give you a serene perspective of your environment. Each stay includes three daily meals at the signature restaurant, where ingredients are locally harvested. The spa provides necessary healing, the open-air yoga room adds focus, and the conical room was created to channel energy from the region's forest. A stay here is not just about pampering and indulging though, it is about embracing beauty. Visit a nearby volcano, do some canopy zip-lining, participate in a tree-planting ceremony, or help pluck veggies from the resort's organic garden. You are sure to depart El Silencio Lodge & Spa feeling revitalized, with a greater respect for your planet and more.
Location of El Silencio Lodge & Spa
El Silencio Lodge & Spa
Next to Gorrion River
2120
Bajos del Toro, Costa Rica
Nearest Airport: SJO
Amenities for El Silencio Lodge & Spa
General Information
16 Suites
Non-Smoking Property
Ecologically Sustainable Practices
Only 8+ Years Permitted
Pets Not Permitted
Dining
Restaurant
Organic Cuisine
On-Site Amenities
Concierge
Spa on Property
Multilingual Staff
Gardens
Private Whirlpools
In-Room Amenities
Luxury Linens
Luxury Bath Amenities
Floor-to-Ceiling Windows
Activities
Cultural Classes
Hiking
Mountain Biking
Ecological Excursions
Nature Walks
Yoga
River Rafting
Rappelling
Cultural Tours
Bird Watching
Meditation
Zip-Lining
Horseback Riding
Nature Hikes
Interests
Eco Friendly Luxury Vacations
Spring Break
Summer Getaways
Reviews for El Silencio Lodge & Spa
---
All of the guides and drivers were very helpful and made our trip one of the best. Everyone was very knowledgable and made each adventure as unique as ever! Our favorite was walking to the waterfalls on property and swimming in the pools!
KGSanders - San Jose, California
---
We loved El Silencio Lodge & Spa! This low key, luxury experience is perfect for couples, families, solo travel, girls getaways... we participated in many activities including horseback riding, zip lining, hiking, a cooking class which included visiting the organic farm on property to select our produce for a salad and a wine tasting class. All of these experiences were excellent. We also went off property for another waterfall hike to Catarata Del Toro and we also visited the nearby village of Bajos Del Toro where we walked around and made tortillas by hand in a home of a local family. We loved our experience and hope more people can discover this property with the perfect mix of relaxation and activities. The staff was excellent and took very good care of us and all guests. The spa is a can't miss, what a beautiful space and excellent treatment options! We loved all of our meals at El Silencio. The Trout is delicious... many of the dishes are quite inventive and unexpected presentation. They have unique soups each night along with a special butter each evening at dinner. The service was excellent and they were very helpful with the wine list! We really loved El Silencio and can't wait to visit again!
---
One of the best hotels in Costa Rica for couples that just want to relax in the middle of the mountain. The private jacuzzi is one of the best things you will have as well as the great service from the people that work at the hotel.
---
This place was amazing! Really took my breath away. We were greeted with fresh hot towels and a delicious refreshing fruit beverage. We climbed to the 3 waterfalls they had, and later took a refreshing dip in our own private hot tub. The room was beautiful with an amazing view of the forest from our bed. The food was delicious as well and the people were beyond nice and helpful. I highly recommend and would definitely go back.
Lianet M - Coral Springs, Florida
---
We spent the second half of our Costa Rican honeymoon at El Silencio Lodge & Spa and loved every minute of it. We came from spending time on the Pacific coast, so we were ready for the cooler cloud forest environment! We were greeted with smiles and sincere welcomes before being led up to our slice of heaven on the hillside. Our suite was so peaceful! Big windows to enjoy the scenery, a patio with rocking chairs, and our own hot tub! We were well rested and pampered the entire stay. The staff's attention to detail is unrivaled. We enjoyed fresh squeezed juice on our patio every morning (delivered as we snoozed!) and hot water bottles in our bed when we returned from dinner. The food was delicious! We enjoyed traditional and contemporary dishes with fresh ingredients and phenomenal service! We enjoyed many of the activities on the grounds - horseback riding, a cultural tour of Bajos del Toro, a romantic rainforest dinner, a guided hike, and an aromatherapy massage. We opted for the honeymoon package that included all of above, and for a luxury eco-resort, we were thrilled with the affordability! Lastly, El Silencio's commitment to the environment and the local community did not go unnoticed! They are making a lasting impact and we are happy to have been a part of their family for a brief stay! We cannot wait to visit again!
Nicole F - Chicago, Illinois
---