Please select your dates to see prices:
---
El Silencio Lodge & Spa in Bajos del Toro, Costa Rica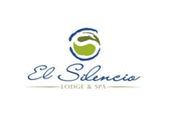 Located on 500 private and lush acres, punctuated with hidden waterfalls and a tropical cloud forest, El Silencio Lodge & Spa is a cutting-edge eco-retreat in Costa Rica. Ideal for honeymoons, relaxation getaways and wellness travel, come to this secluded hideaway to release the stress and tension of everyday living . Named to the Condé Nast Traveler Hot List and top the Travel + Leisure It List, this acclaimed resort is a sensory experience and a destination where the sounds and sights of nature prevail over everything. El Silencio Resort & Spa features an environmentally-immersed spa, organic cuisine and deluxe meditation rituals - all with the purpose to renew and re-energize its guests.
The 16 zen-like suites appear to be one with their surroundings, with each abode resting on stilt-like pillars to ensure the natural topography remains uninterrupted. The suites contain ceiling tiles crafted from bamboo, wood floors cut from wide planks, ambient and energy-efficient lighting, gas fireplaces and expansive viewing decks to give you a serene perspective of your environment. Each stay includes three daily meals at the signature restaurant, where ingredients are locally harvested. The spa provides necessary healing, the open-air yoga room adds focus, and the conical room was created to channel energy from the region's forest. A stay here is not just about pampering and indulging though, it is about embracing beauty. Visit a nearby volcano, do some canopy zip-lining, participate in a tree-planting ceremony, or help pluck veggies from the resort's organic garden. You are sure to depart El Silencio Lodge & Spa feeling revitalized, with a greater respect for your planet and more.
Location of El Silencio Lodge & Spa
El Silencio Lodge & Spa
Next to Gorrion River
2120
Bajos del Toro, Costa Rica
Nearest Airport: SJO
Amenities for El Silencio Lodge & Spa
General Information
16 Suites
Non-Smoking Property
Ecologically Sustainable Practices
Only 8+ Years Permitted
Pets Not Permitted
Dining
Restaurant
Organic Cuisine
On-Site Amenities
Concierge
Spa on Property
Multilingual Staff
Gardens
Private Whirlpools
In-Room Amenities
Luxury Linens
Luxury Bath Amenities
Floor-to-Ceiling Windows
Activities
Cultural Classes
Hiking
Mountain Biking
Ecological Excursions
Nature Walks
Yoga
River Rafting
Rappelling
Cultural Tours
Bird Watching
Meditation
Zip-Lining
Horseback Riding
Nature Hikes
Interests
Eco Friendly Luxury Vacations
Spring Break
Summer Getaways
Reviews for El Silencio Lodge & Spa
---
I am certain this resort appeals to some, but cannot in good conscious recommend to anyone with families. I have been blessed to stay in many 5 Star resorts all over the world, yet I would not consider this one to be of the same caliber. The facilities are nice, but the activities are limited and are impacted by the significant precipitation in this part of Costa Rica. As someone from a northern climate, the last thing I want on a nice vacation is constant precipitation and being stuck in a hotel room staring at the wall. I checked out within 2 hours of arrival and traveled to the beach. Do your research before coming to ensure this resort aligns with your expectations.
FishDurango - Maple Grove, Minnesota
---
Nice hotel with lots of water features in immediate vicinity and surrounded by pristine forests. The rooms were good with all facilities including a safe, tea/coffee facilities and jacuzzi. I would describe the rooms as slightly bland and characterless. Food was good, although breakfast seemed to run out of things like brown bread and fresh pineapple, but perhaps they were simply not topped up? Evening meals were very good, especially the trout which was from their own mountain freshwater pond. Plenty of organised activities on offer. The staff and guides were all very good.
---
This was the most beautiful place to stay. Our stresses just melted away within minutes of being shown to our beautiful suite #10, which was so comfortable, with stunning views from every window. We had excellent WiFi but this was probably because our accommodation wasn't too far from the main building. We made good use of the hot tub after after walks. The staff here are one of the reasons it is such a special place. Special thanks to Martin, who noticed I had a bad cough when we arrived and who so kindly made me a pot of his special ginger, lemon and honey tea. We enjoyed a walk around the grounds with Ronald and an early bird walk with Roberto, both of whom impressed us with their passion and knowledge. We ate some delicious food in both restaurants, but thought that the service could have been more finessed e.g. removing dirty plates before bringing the next course. Sadly we only stayed for two nights and were very sad to leave.
GardenerCook - Maidenhead, England
---
We spent four nights at El Silencio Lodge. To begin, the location is isolated and that adds to the charm. We had a cabin (#5) and had to walk down a hill to dinner. Each cabin has a hot tub and the cabins are very comfortable and modern. The restaurants are very casual and the food is excellent. The breakfast burrito is very nutritious, perfect for an active day. The Tico French toast is also outstanding. The trout for dinner was very good and you can see where they farm the trout. There are many activities - some included in a package and some not. I recommend going on Las Gemelas Hike to the waterfall, visiting Doña Olga to make tortillas, horseback riding, the El Misterio Hike and even though it is expensive, the day trip to Arenal. There is no wi-fi in the rooms and no TV. Be prepared for an active vacation if you want to make the most of this resort. The guides are all wonderful and speak excellent English. I want to mention our main guide, Ronald. He was so knowledgeable, personable and helpful. He made our stay even more wonderful. One thing you should know before coming to El Silencio. The weather can be very changeable. One night, I wore a light ski jacket to dinner and the next day it was sunny and in the 70's. Be prepared for every kind of weather and you will really enjoy this unique resort!
joanieh6 - Allendale, New Jersey
---
El Silencio is one of the most glorious places we have been. It rained as we walked through their own rainforest -- and we cherished every beautiful moment. As for the ethos of the place: their staff plays sports with youngsters in the village to encourage the latter to have interests rather than get involved with drugs, etc. The staff is all locals as well, so El Silencio "gives back" to the community. The restaurant's food is delicious, the rooms lovely -- an exceptionally special place to which I dream returning.
Miriyam - Los Angeles, California
---