Please select your dates to see prices:
---
El Silencio Lodge & Spa in Bajos del Toro, Costa Rica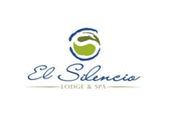 Located on 500 private and lush acres, punctuated with hidden waterfalls and a tropical cloud forest, El Silencio Lodge & Spa is a cutting-edge eco-retreat in Costa Rica. Ideal for honeymoons, relaxation getaways and wellness travel, come to this secluded hideaway to release the stress and tension of everyday living . Named to the Condé Nast Traveler Hot List and top the Travel + Leisure It List, this acclaimed resort is a sensory experience and a destination where the sounds and sights of nature prevail over everything. El Silencio Resort & Spa features an environmentally-immersed spa, organic cuisine and deluxe meditation rituals - all with the purpose to renew and re-energize its guests.
The 16 zen-like suites appear to be one with their surroundings, with each abode resting on stilt-like pillars to ensure the natural topography remains uninterrupted. The suites contain ceiling tiles crafted from bamboo, wood floors cut from wide planks, ambient and energy-efficient lighting, gas fireplaces and expansive viewing decks to give you a serene perspective of your environment. Each stay includes three daily meals at the signature restaurant, where ingredients are locally harvested. The spa provides necessary healing, the open-air yoga room adds focus, and the conical room was created to channel energy from the region's forest. A stay here is not just about pampering and indulging though, it is about embracing beauty. Visit a nearby volcano, do some canopy zip-lining, participate in a tree-planting ceremony, or help pluck veggies from the resort's organic garden. You are sure to depart El Silencio Lodge & Spa feeling revitalized, with a greater respect for your planet and more.
Location of El Silencio Lodge & Spa
El Silencio Lodge & Spa
Next to Gorrion River
2120
Bajos del Toro, Costa Rica
Nearest Airport: SJO
Amenities for El Silencio Lodge & Spa
General Information
16 Suites
Non-Smoking Property
Ecologically Sustainable Practices
Only 8+ Years Permitted
Pets Not Permitted
Dining
Restaurant
Organic Cuisine
On-Site Amenities
Concierge
Spa on Property
Multilingual Staff
Gardens
Private Whirlpools
In-Room Amenities
Luxury Linens
Luxury Bath Amenities
Floor-to-Ceiling Windows
Activities
Cultural Classes
Hiking
Mountain Biking
Ecological Excursions
Nature Walks
Yoga
River Rafting
Rappelling
Cultural Tours
Bird Watching
Meditation
Zip-Lining
Horseback Riding
Nature Hikes
Interests
Eco Friendly Luxury Vacations
Spring Break
Summer Getaways
Reviews for El Silencio Lodge & Spa
---
El Silencio is such a special retreat. The grounds are beautiful, and with an ever changing climate we were able to experience something new each day. Perfect for hiking adventures, exploring waterfalls, amazing photography, and relaxation. The spa is a must! There were tons of surprises once we got there...things like exploring the local town, fresh chocolates each day, and warm heat packs in our bed in the evening. In terms of resort staff, Kelvin and Martin were exceptional, and always had great wine recommendations. Along with great menus and food, there was fresh squeezed juice each morning. Orlando and Amelio, the adventure guides, were fun and knowledgeable. Their skills sets go SO far beyond just one type of tour, so be sure to ask them for recommendations in the area. We coupled our stay at El Silencio with a 3 night stay at their beach retreat, Punta Islita, in one of the vacation packages. Definitely the right way to go. In the package we did, we received airport pick up, resort transfer (about 5 hour drive from mountain to beach), and airport drop off. Tons of other perks too...meals included, sparkling wine, welcome drink, couples massage, bar credits, activities. It made planning so much easier! Highly recommend seeing what specials and packages they are offering. Just an amazing trip! Went in with very high expectations and was just blown away by the details and delights of this lodge.
---
My husband and I stayed for only three nights at this gorgeous lodge for an anniversary vacation. Upon arrival we were greeted by William. He explained to us that our suite which we reserved was under some maintenance and they had upgraded us to one of their villas as we were there celebrating our 20th anniversary and he promised we would not be disappointed although it was a bit larger than what we probably needed. Well , he brought us to the villa xalachi and it was beyond our expectations. The most beautiful house on top of hill with amazing views from every room! Top notch accommodations, wonderful restaurants with very friendly staff at our beck and call and plenty of activities and excursions for young and old. We took a hike to beautiful waterfalls. Went to cooking class and made empanadas and picked our own vegetables from their garden greenhouse. This place is beautiful!
---
We teased our kids that this would be a "no talking" portion of the trip, but it turns out that this property is equally wonderful for families as for couples seeking some alone time. The property is magnificent -- with the on-site trails and waterfalls equally anything we did elsewhere. The bungalows are large and luxurious. Martin also runs a top notch restaurant with innovative cuisine and wines worth enjoying. We did a number of activities -- horseback riding (Emilio), trail hiking (Daniel), Spa, and yoga, and all were very special. We also managed to relax and rest and get to bed every night by 8:30....
Austin C - Princeton, New Jersey
---
we really enjoyed the hotel, we have booked two different kind of room, the first one was a regular suite, it was nice, but the two bedroom suite was even more beautiful! we loved it, well decorated, great jacuzzi, great patio with privacy. Staff was very nice, especially our guides who were amazing. The food was good and staff in the restaurant was very nice as well. the quality price ratio was great especially for Costa Rica where hotels are quickly expensive. The hotel is located in a luxurious nature, and is extremely well located in order to do amazing trek. The waterfalls around are must do and the guides were very nice. We loved our stay here and wish we could come back soon!
---
If I'm honest, when we first arrived we were worried. El Silencio is very low-key. Coming straight from the utter chaos of our real lives in London the calm felt jarring at first. We arranged an airport pick up with the hotel (definitely recommended, the drive would not be fun in the dark and Jimmy the driver was excellent). We arrived at around 7:30 pm so the sun had already set and with the lack of lighting around the resort we really had no idea where we were. We unpacked and went to straight to bed, skipping dinner. We awoke to a thud. On opening the curtains we found a hummingbird had flown into our window and was lying very still on the deck. We went outside, he was bit dazed but still breathing. We prodded him a bit with a sock, he jumped up and flew to the nearest bush where he stayed for some time while we got some beautiful photos. It was then that we started to understand the appeal of El Silencio - we found we'd spent nearly an hour outside in our pyjamas watching a hummingbird. A wonderful use of time, neither of us had read our emails, checked the news, updated a spreadsheet - exactly what the resort is about, leaving everything behind. Over the five days of our stay we chose not to do much, but there was plenty on offer. We joined the complimentary nature walk with Kenneth which was very interesting, the forest around the resort is relatively new so while the wildlife isn't as abundant as you might find in other areas, there is still a lot to see. We walked both the trails and really enjoyed the three waterfalls, we went back the next day and swam in the largest one - La Promesa. It's cold but so beautiful. We warmed up in the hot tub before dinner every evening. Food was generally excellent, breakfast in particular (no buffets, all Ă  la carte) and we enjoyed a pre-dinner Guaro Sour every night in the bar watching the monster moths. The tico restaurant is great but a little bit lacking in atmosphere, I think we were there in peak season and we didn't eat at unusual times but we only ever saw one other couple in there. We had a couples signature massage at around $140 each, it was only time we had rain and the sound on the roof of the spa combined with the massage was bliss. The best part of of the whole experience, however, was the people, we were genuinely sad to leave. My wife wanted to go and find specific members of staff and say goodbye, which we have never done before. If this resort is your sort of place you will love it, but realise it might not be for everyone. I think children could get a bit bored. If you have mobility problems you will struggle to get about (they have golf buggies but we didn't see them used for guests, only staff and luggage). The weather is cold and changeable (no shorts and t-shirts, trousers and jumpers all the way). Also if you're expecting 'international standard' luxury you might be a bit disappointed (but you should probably ask yourself why you're going to Costa Rica). This is a truly calm, quiet, beautiful, friendly eco-resort and we loved it.
---