There are no rooms available for this property, at this time.
---
Chic-Chocs Mountain Lodge in Cap-Chat, Quebec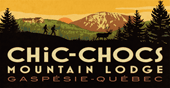 Discover a land of pristine beauty and escape to a winter wonderland at Chic-Chocs Mountain Lodge. In the heart of Quebec, Canada's Reserve Faunique de Matane, on the far eastern Gaspe Peninsula, this fabulous resort is your retreat from the world where you will find complete serenity and relaxation. Each of the 18 spacious, inviting rooms welcomes guests with a warm, cozy atmosphere and rich-wood design that blends simple modern elegance with charming rustic touches. Large picture windows frame the picturesque outdoors and fill the rooms with abundant natural light while deeply plush beds comfort and warm you each night. Without televisions or phones to intrude, let yourself truly escape into the peace and quiet, the enchanting beauty of Quebec, and discover a winter paradise to touch your heart.
Wake to gentle winter mornings, the sunlight playing magically over the shimmering fresh snow and venture out into the reserve for a day of pure joy and excitement. Snowshoe across picturesque mountains and through deep valleys, watch for the area's wonderful wildlife as you make your way through the forest. Head up the mountains for a day of skiing or try a more modern approach to the exhilarating sport. Try your hand at Alpine touring, heading across frozen tundra and down sleek slopes, meta-skiing as you snowshoe and ski or even splitboarding, which combines the principles of climbing skis with the downhill rush of snowboarding. In the brilliantly warm summer months, make your way through the same mountains and valleys, taking in the lush verdant surroundings as you hike across alpine trails or mountain bike over 60 miles of forest trails. If you are feeling truly adventurous, you will enjoy canyoning as you hike, rappel and swim through the Ruisseau Beaulieu at the base of Mont Nicol-Albert. After a fabulous day in the Great Outdoors, winter or summer, return to the lodge for a delightful family-style dinner of fresh gourmet fish and game. At Chic-Chocs Mountain Lodge discover yourself anew as you experience the breathtaking beauty of Quebec.
Location of Chic-Chocs Mountain Lodge
Chic-Chocs Mountain Lodge
10, Rue Notre-Dame Estates
G0J1G0
Cap-Chat, Quebec
Nearest Airport: YQB, YYY
Amenities for Chic-Chocs Mountain Lodge
General Information
18 Guest Rooms
On-Site Amenities
Spa on Property
Sauna
Boutique
In-Room Amenities
Bathrobes
Hair Dryers
No Televisions or Telephones
Activities
Hiking
Kayaking
Mountain Biking
AlpineSki
Rappelling
Wildlife Viewing
Cross Country Skiing
Snowshoeing
Boating
Snowboarding
Nearby
National Parks
Nature Reserve
Interests
Active & Adventure
Lodges & Ranches
Ski & Snow
Reviews for Chic-Chocs Mountain Lodge