Please select your dates to see prices:
---
Wits End Guest Ranch Resort & Spa in Durango, Colorado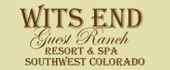 Breathe in crisp mountain air, exhale the stress from your busy world, and drink in breathtaking views of towering mountains and lush forest at Wits End Guest Ranch Resort & Spa. In the heart of Colorado's San Juan National Forest, this remarkable dude ranch is your escape from it all to the tranquility of the country. Charming one- to four-bedroom log cabins are spacious, quiet and bright, offering cozy warmth. A brilliant glow illuminates the separate living room and the stone fireplace comforts you throughout the night as you rest in deeply plush beds. Enjoy a full kitchen and dining area, as well as an expansive wooden deck with a classic country swing, perfect for an evening watching the sun set behind the mountains. At Wits End Guest Ranch Resort & Spa cast off from the world and discover yourself all over again.
Start your day with a hearty breakfast at the Old Lodge at the Lake, then spend the day reconnecting with nature. Horseback ride over endless forest trails, or head up into the mountains for more advanced riding. Become a true "dude" at the ranch and spend a day sorting cattle, which will delight the whole family. Hike and mountain bike through the San Juan National Forest and Weminuche Wilderness, and then relax with a fly-fishing trip along Vallecito Creek and Pine River. Spend an exciting day on the nearby Animas River and experience the rush of whitewater rafting, or perhaps relax and pamper yourself with a day at Wit's End Spa. In the afternoon take in the mountain beauty in its entirety from high above in a hot air balloon or zipping through the skies in a glider. With evening setting in over the Colorado wilderness make your way back to the Old Lodge for the fabulous nightly dinner. Serving everything from full classic barbecues to world cuisine, each meal offers the perfect end to a wonderful day at Wits End Guest Ranch Resort & Spa.
Location of Wits End Guest Ranch Resort & Spa
Wits End Guest Ranch Resort & Spa
254 County Road 500 KRW Vallecito Lake
81122
Durango, Colorado
Nearest Airport: DEN
Amenities for Wits End Guest Ranch Resort & Spa
General Information
34 Guest Rooms
On-Site Amenities
Hiking Trails
Fitness Center
Game Room
Horse Stables
Outdoor Heated Pool
Fishing Pond
Barbeque Area
Outdoor Whirlpools
Tennis Court
In-Room Amenities
Turndown Service
Bathrobes
Fireplaces
Televisions
Activities
Bicycling
Fishing
Hiking
Tennis
Water Skiing
Mountain Biking
Nature Walks
White Water River Rafting
Volleyball
Horseback Riding
Paddleboating
Family
Children's Programs
Nearby
Hot Air Ballooning
Interests
Active & Adventure
Family
Spa & Wellness
Reviews for Wits End Guest Ranch Resort & Spa
---
Beautiful hotel, good restaurants, stunning views, nice rooms. We did have an issue with our big sliding door but they sent someone out to make it work for the time we were there as it will be a major fix and they couldn't do it with guests in the room. We will be back!
---
This is a beautiful historic resort! If I could give it 6 stars, I would. The landscaping, rooms, common areas, restaurants are all kept in top-notch condition. The staff, however, is what makes this property. They are caring, kind, helpful and friendly: Vanessa and Simon at the front desk, Jaimie and David at the bar/patio area, Patrick at valet and Bones managing to keep everything in pristine condition. They are all willing to help answer questions or recommend a local restaurant. Bones gave us a few restaurant recommendations which were wonderful. We had a suite on the hillside facing west. Very quiet and private. The suite was clean and very comfortable. It had a large bedroom, large living room, bath and patio. We enjoyed the outdoor patio of our suite watching the sunsets. On our last morning we heard coyotes howling and it sounded like they were right outside our room! The historic building and landscaping are beautiful. Take time to walk through the property and look at the old photos/descriptions on the walls. There are nice touches all over the property - make sure you bring your camera! The pools are lovely and clean. We sat by the Catalina pool on the lower deck overlooking the golf course on two days and just enjoyed the sun and the view. There are seating areas located throughout the resort for your enjoyment. We ate at The Grill restaurant once while there. It was very good, a bit expensive, but we wanted to try it. The food was presented very nicely. Lunch on the patio was delightful. I highly recommend this resort if you travel to Tucson.
---
There are lots of really good things to say about HDS. The restaurant is charming and the patio is great. Food is consistent and worthwhile - but it is a bit expensive. The resort addition has really added a nice updated feel. The grounds are great and there is a lot of history to the hotel - which is worth exploring in their library. We like to go to the restaurant whenever possible.
---
Built in 1929 and expanded recently, the hotel keeps the flavor of an old time desert resort. Most units either have a spectacular Mountain View or look at the original and beautiful hotel courtyard. On site dining is very good. I received knowledgeable help planning out time from Simon at the front desk - much appreciated! Good service all around. What kept me from rating the resort 5 stars was a very poor unit we were initially placed in despite reserving well in advance. The duplex of units 41 and 42 have neither view I mentioned above and are nestled between a large parking lot and the road on the edge of the property. Fortunately we were moved to a historic unit that cost less and was way better. Really surprising they would dilute their brand with these poor units.
---
Hacienda del Sol is a charming historic resort with all the modern amenities. The quaint and intimate setting of this boutique hotel makes it the most beautiful resort I've ever stayed at. The historic guest rooms are tiny but adorable and perfect for a person travelling alone. They have added new rooms and larger suites, a second pool and additional event space, but have not diminished the older parts of the property in any way. The expanded terrace bar and cafe is delightful. The Grille Room is fine dining at its very best. There is a tiny spa where you can get a massage and with two pools and hot tubs, you can enjoy relaxing and cooling off. They have a riding stable and a small but adequate fitness room. The flowers and gardens are gorgeous. We enjoyed fresh oranges, lemons and grapefruit each day from trees on the property. Every chance I get, I will go back to this amazing place. It is unparallelled in excellent service and it is always a memorable experience to stay here. I've been numerous times with my husband and solo and have always loved it.
Cowtown_Grrl - Columbus, Ohio
---