Please select your dates to see prices:
---
Playa Nicuesa Rainforest Lodge in Golfito, Puntarenas, Costa Rica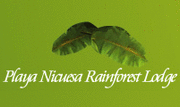 Designed so you are nature's privileged guests, Playa Nicuesa Rainforest Lodge is a captivating retreat in Costa Rica. This solar-powered sanctuary along the Pacific Coast is tucked into a 165-acre estate within the Piedras Blancas Park. Arrive by boat to an intimate world composed of a main lodge, cabins and guest rooms that are uniquely designed to create a seamless and enjoyable transition between the indoors and outdoors. Follow candlelit pathways to the dining terrace for three full meals each day, where you will be enchanted by a tranquil blend of romance and environmental sensitivity.
This region is considered one of the most biologically diverse places on earth - you are sure to agree as you wander your front yard, with its views of dolphin-filled waters, or stroll along through thousands of acres of tropical rainforest. Kayak through the nearby mangroves, enjoy offshore fishing, take a jungle hike to a waterfall, or simply swing in a hammock beneath an almond tree by the sea and drift off to the rhythm of the waves. Playa Nicuesa Rainforest Lodge is one eco-retreat you are sure to never forget.
Location of Playa Nicuesa Rainforest Lodge
Playa Nicuesa Rainforest Lodge
Piedras Blancas National Park Peninsula de Osa
85-1000
Golfito, Puntarenas, Costa Rica
Nearest Airport: SJO
Amenities for Playa Nicuesa Rainforest Lodge
General Information
9 Guest Rooms
Ecologically Sustainable Practices
In-Room Amenities
Ceiling Fans
Outdoor Showers
Hammocks
En-Suite Bathrooms
Activities
Deep Sea Fishing
Fishing
Hiking
Kayaking
Windsurfing
Snorkeling
Ecological Excursions
Yoga
Wildlife Viewing
Bird Watching
Interests
Active & Adventure
Eco Friendly Luxury Vacations
Honeymoons & Romance
Lodges & Ranches
Summer Getaways
Reviews for Playa Nicuesa Rainforest Lodge
---
Our stay was unforgettable and we didn't want to leave. Imagine lying in bed listening to the sounds of animals and a tropical rain gently falling throughout the night. Then imagine waking up to howlers and birds at dawn. We loved having our early morning coffee on the veranda watching the endless parade of hummingbirds and butterflies. The staff and guides were exceptional. So much nature, so little time.
Sharon W - New Smyrna Beach, Florida
---
This was the last stop on a three week holiday and we had been led to believe by the organizing agent that it would be to best. Sadly, it did not live up to expectations. We felt that we were treated more like high school pupils than adults who had paid quite a lot of money. We were greeted with the "rules" of what we were expected to follow which was a bit of a surprise. The presumption that we would "join in" was also somewhat unexpected when we were travelling solo and not part of an organised tour. The chalet we stayed in (crocodile) was fine but without the airline slippers which we had kept, the bathroom floor was very rough and uncomfortable and because of the materials used, far from clean. Shoes are not allowed past the entrance because of the wood floors and the same applies at the main lodge. The limitations on the use of electricity are laudable although hardly necessary as Costa Rica generates all its electricity through sustainables - wind and hydro. The problem here is presumably that they are off the National Grid and have to use a diesel generator to supplement solar powered batteries. You can only charge your mobile phone but despite that, we had 14 separate power outlets in our accommodation! My wife likes to use a small hairdryer but this was banned. The lighting in the bungalow was pretty dismal despite some of the web site photographs. The cuisine was pretty much like other establishments in Costa Rica and choices for lunch and dinner were pretty limited and had to be made at the previous meal. There was no particular effort to introduce the DIY activities like fishing, kayaking and snorkelling and the map of the trails on site was very poor and not to scale. The inference that the beach is an attractive place to relax is distinctly misleading - I would describe it as a rather grotty gravelly edge to the sea which you wouldn't want to walk on barefoot or sunbathe. The aspect which annoyed us the most was the fact that the resident guides who may be on commission kept pestering us to sign up for boat trips etc despite us making it clear that we wanted peace and quiet to relax. While the eco aims of the lodge are laudable and the jaguar project they are involved in quite exciting, they should market themselves as an ecological project and not try to be a luxury hotel as well. The two objectives are not really compatible. It is certainly a project to be supported but a bit more honesty on the web site and perhaps more realistic pricing would be a good idea.
Ewingston - Edinburgh, United Kingdom
---
From the first moment - the boat ride to the lodge - to the end of our stay, everything was done by the staff to make these days unforgettable. The location, the rooms, the quality of the meals - special thank for the good idea of the appetizers and the unique table that give the opportunity to share with people -, and the environment, everything leads to a very successful stay. Kayak, fishing, the mangrove, night walk, swimming quasi alone in a clear water.... The number of guests in the lodge is an antidote against tourist crowds. A high quality resort, higly recommended. Just one remark: the menu and the informations in the room should be in spanish language.
Lambert F - Fribourg, Switzerland
---
Rare gems are expensive, and so is Playa Nicuesa, but it's definitely worth it if what you're looking for is an escape from tourist crowds and gaudy night life and want to really escape into a simpler, quieter, and more natural place. Playa Nicuesa is isolated from towns, roads and people, but not from amenities like good food, drink, accommodations and service. Everything is brought in in small boats from distant ports, but you're never lacking what you really need. The food and service are surprisingly wonderful, as are the guides. There are at least as many staff as guests, and the number of guests averages only about 15 in the high season. This is the place for you if you are the kind of person who likes rise and sleep with the sun -- who gets up at dawn to go bird watching or do yoga at the ocean's edge, and likes to explore the rain forest where the only sounds are those of the birds and monkeys. Or kayak and for a couple hours and not see another boat or human. I truly felt like I was back in the era of the Spanish explorers.
Doug3862 - Ridgefield, Connecticut
---
Loved the boat ride to the place....increases your anticipation and separation from civilization. This is a place to chill, relax, and absorb all the sites, sounds, smells around you. Beautiful lodge, professional and friendly staff, good food and service, lovely common areas to enjoy the outdoors. Stayed in the Jaguar House for 4 nights, wish we had stayed longer, agree it's like a summer camp for adults - plenty of guided things to do or you can just hike, kayak, fish on your own. Meals are communal, so you meet people from around the world who share stories of their travels and interests. We highly recommend for those who want to get off the beaten path but have every comfort of a high quality resort.
bnelsonjameson - Suttons Bay, Michigan
---