Please select your dates to see prices:
---
Jackalberry Lodge in Hoedspruit, South Africa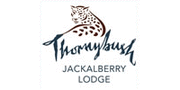 On the edge of Kruger National Park in northeastern South Africa, Jackalberry Lodge blends intimate luxury and majestic wildlife. This beautiful retreat situated in Thornybush Private Game Reserve is one of the country's premier "big five" game viewing areas. Here you'll find just five charming chalet-style rooms, all of which boast outdoor showers and patios that offer dramatic bush views. When you're not out searching for game, you'll discover a life focused on leisure--whether you're drifting in the pool or lazing in the library with a good book.
A typical day begins with a morning game drive in an open safari vehicle, guided by rangers and trackers. Keep your eyes open for the wealth of wildlife found in the immediate vicinity of the lodge, including lion, leopard, rhino, elephant and cheetah. Perhaps you'll enjoy a bush lunch at an intimate table for two before your afternoon game drive, offering even more viewing opportunities. The majestic Drakensberg Mountains provide a stunning backdrop for evening sundowners, followed by a sumptuous dining in the beautiful bush dining room lit by oil lanterns.
Location of Jackalberry Lodge
Jackalberry Lodge
The Thornybush Game Reserve Guernsey Road
1380
Hoedspruit, South Africa
Nearest Airport: SZK
Amenities for Jackalberry Lodge
General Information
7 Guest Rooms
Interests
Active & Adventure
Beach
Lodges & Ranches
Reviews for Jackalberry Lodge
---
Within our first 30 minutes of our first drive we followed a pair of young leopards into the bush. The animals told us they were their. Our eyes and cameras struggled to see them. Amazing. The Big 5. Done the second day. an many more. We saw a rogue lion from Kruger try to win over a proud pack of 7 lionneses (three generations of tough chick lions. Willie (Villie) knows the 64 square miles very well. But apparently gets lost in a city. Great food. Terrific hosts. A quick drive in from HOEDSPRUIT airport. THIS IS NOT A ZOO experience. No doors . No roof. No windshield. Driver HAS a big gun. Do it if you like animals. Theres no disco and no hip hop.
VoyagerCANADA - Brampton, Canada
---
My husband and I recently spent 3 nights at this lovely lodge. We had a wonderful time there and were really impressed by the staff. They were charming and ensured we had everything we could want or need. The ranger was exceptional. A true professional with extensive knowledge. He made sure our drives were truly memorable.
---
Quote by Rich Mullins: "The only man I envy is the man who has not yet been to Africa – for he has so much to look forward to." We have been living near Hoedspruit for years and on the 31st of January we had the privilege to experience the beauty and wonder of Africa for the first time all over again. Arriving at the Jackalberry Lodge, we were greeted by the most wonderful and friendly people that made you feel right at home. The Lodge is serene and extremely luxurious. The rooms were utterly beautiful and the food was AMAZING. Our ranger and tracker went above and beyond to show us the big five and so much more. I can't think of a better or more romantic way to celebrate our special day. We had the time of our lives! Jackalberry Lodge truly exceeded all our expectations. Thank you to EVERYONE at the Jackalberry lodge for making our anniversary MAGICAL. Lelani & Hendrie
---
We were a group of four and spent 4 nights at Jackalberry Lodge, Thornybush Reserve. We are all well travelled in Africa and have some experience of national parks and game reserves. Jackalberry Lodge exceeded all our expectations. The accommodation, the lodge facilities, the surroundings, the food, all were of extremely high quality. The game drives and the ranger and tracker who looked after us were however outstanding. The opportunity to see not only the Big Five but so much more and in such proximity was truly memorable. One of our party is partially disabled and the care and consideration given to him by the safari team and indeed all the Lodge personnel was remarkable.
---
We were a group of 12 people so pretty much had the lodge to ourselves. The staff under the management of Atasha was top notch. We enjoyed excellent food and saw all the big five and more. Our ranger Willie and tracker John showed us some amazing sights. Our first drive was Exciting as we saw a mother Cheetah with her cubs and a ferocious fight between a lion and lionesses. We were at a site where the Lionesses and cubs were feasting on their freshly killed Giraffe. Once our ranger heard that the Lion was on the way, we waited and experienced the roars and the ferocious fight between the Lion and Lioness trying to protect her cubs. Every drive after this was momentous as our experienced ranger and tracker team showed us sights good enough for National Geographic. We saw a pack of wild dogs with their kill and vultures trying to get it from them. A giraffe who had just delivered a baby . Our thanks to Willie and John and the entire staff of Jackalberry for an unforgettable experience.
Review1950 - Cleveland, Ohio
---