Please select your dates to see prices:
---
Ngoma Safari Lodge in Kasane, Botswana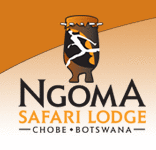 Venture out to discover a far away land, where starry skies shine over fertile plains and ancient rivers bring life as they have since prehistory, and discover the stunning beauty of Botswana's wildlife at the fabulous Ngoma Safari Lodge. In the heart of Northern Chobe, on the grounds of the Chobe Forest Reserve, immerse yourself in nature while living in style. Eight amazing thatched-roof suites, each facing out over the majestic Chobe River, invite you to spacious comfort, with living spaces that flow from indoors to out and elegant baths with enticing indoor-outdoor showers. Plush canopied beds wrap you in warm comfort each night, while your private yard is the perfect place to relax on a chaise lounge or in your "refresh and relax" pool, sip a glass of wine, and gaze out over stunning vistas. Complete with amazing guest service, gourmet meals day and night, and the wonders of the African plains just outside your door, experience the true beauty of Botswana and a time you will remember forever at Ngoma Safari Lodge.
As the sun caresses the plains, the native wildlife just beginning to stir, enjoy a steaming cup of coffee as you anticipate heading out on your first exciting safari. Venture out to the distinct areas of the park, discovering the individual beauty of each as you come face to face with its inhabitants. Stop first at the Chobe Riverfront to watch herds of elephants and buffalo as they frolic in the waters, then continue on to the Ngwenzumba Pans, a vast stretch of clay pans that fill with water and provide life during the rainy season. Make your way to the interior of the park, or the Savute, where graceful lions and cheetahs, and the strangely beautiful hyena make their homes, then gaze out over the breathtaking beauty of the Linyanti, swamps that share a similar history to the famed Okavango Delta. After a truly remarkable safari, return to the resort to relax by the pool, or venture out again for a fantastic cruise down the Chobe River itself. That evening, head out on a fantastic birding game walk and try to identify some of the 450 species, then delight in a magical night safari before dinner. After a fabulous day on the plains sit down to a gourmet al fresco dinner at the dining room, and enjoy your meal as you gaze out over Botswana's moon-kissed plains from the lap of luxury at Ngoma Safari Lodge.
Location of Ngoma Safari Lodge
Ngoma Safari Lodge
Kasane
Chobe National Park 7800
Kasane, Botswana
Nearest Airport: BBK
Amenities for Ngoma Safari Lodge
General Information
Ecologically Sustainable Practices
Only 10+ Years Permitted
Dining
Bar
Dining Room
Picnics
On-Site Amenities
Gift Shop
Outdoor Pool
Lounge
Sun Deck
In-Room Amenities
Private Patios or Balconies
Air Conditioning
Ceiling Fans
Mini Bar
Outdoor Showers
Activities
Cultural Classes
Educational Programs
Excursions
Ecological Excursions
Boat Excursions
Wildlife Viewing
Cultural Tours
Elephant Trekking
Bird Watching
Game Drives
Nearby
National Park
Nature Reserve
Interests
Active & Adventure
Lodges & Ranches
Reviews for Ngoma Safari Lodge
---
Ngoma Safari Lodge is a gem, a cosy and extremely comfortable lodge away from the crowded areas of Chobe. Beautifully appointed chalets with everything anyone could ask for, amazing staff both in the lodge and also on the safari activities (Johane is a unique guide, one of the best there is), and our stay was pure heaven. Chobe National Park can be very busy in the tourism season, mainly in / around the Kasane area, and this is one of Ngoma's advantages, being located far from this area.
rung2018 - Durban, South Africa
---
We spent 3 Weeks in Southern Africa and the Ngoma Safari Lodge was our greatest experience. Our guide took us to most interesting places with many elephants, zebras, giraffes and other wildlife. He told us many interesting details about their life.
Wolf G - Dusseldorf, Germany
---
Had such a wonderfully special and memorable stay. Staff was super friendly and catered to our every need. Management made us feel right at home and it felt like we were the only guests they had to cater for. Our room had a spectacular view and was fully equipped with what you may need. Food is great and had a nice variety. We have done numerous game drives all over Africa and what stood out about Chobe, is that it is great for viewing lots of game in large groups. We enjoyed 3 game drives and a boat trip on the Chobe river during our 2 day stay - all provided as part of our activities at the lodge, which granted us the opportunity to see all kinds of wildlife, both from water and on land. For those unfamiliar with game watching: it is not a zoo and one cannot pick and choose which animals you want to see-appreciate the animals you do encounter. Our guide was great and informative.
marlette83 - Zurich, Switzerland
---
Was our first safari, the lodge has an amazing view of a watering hole and the staff are really nice and helpful. we saw heaps of animals, did not even have to look too hard. definitely recommend this place and i hope to be back one day. food was great too !
sabita89 - Singapore, Singapore
---
Had a fantastic time at Ngoma lodge. The view the moment you walk in exceeds expectations and is exactly, maybe more than you could imagine what a safari would look like. The staff are all friendly and caring. Tracey, MK, Peter, Sam to name a few were great. Thank you so much!
---