Please select your dates to see prices:
---
Mateya Safari Lodge in Madikwe Game Reserve, South Africa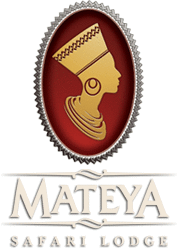 Named for a great African Queen, Mateya Safari Lodge is a haven dedicated to luxury in the African bush. Located three hours from Johannesburg in the Madikwe Game Reserve, one of South Africa's largest parks, the lodge is a world-class destination - completely private and thoroughly exclusive, welcoming no more than ten guests at a time its five ultra-luxurious thatched suites with private pools. Inside the lodge find exquisite art, sumptuous cuisine, elegant décor, and a complete wellness center. While outside discover untamed wilderness, where nature reveals its majestic colors to you, the privileged few nestled within the simple grandeur of Mateya Safari Lodge.
No journey to the bush would be complete without a sighting of one of the Big Five. In Madikwe each of these spectacular mammals prowl freely, and with the aid of trained and experienced trackers it is all but guaranteed that you will view them all. Leaving daily at dawn and again at dusk, groups of four are taken out to view nature in its most awe-inspiring moments. Less heart-racing activities include taking a dip in your private pool, enjoying a siesta in the shade of your natural window sala, or indulging in a relaxing massage. End each day with a gourmet meal on the main deck, as all of Africa is seemingly spread out before you. As night falls, cozy up to the fire and admire the canopy of stars glittering from above. Mateya Safari Lodge brings comfort and sophistication to one of the world's last wild places.
Location of Mateya Safari Lodge
Mateya Safari Lodge
Madikwe Game Reserve, South Africa
Nearest Airport: JNB
Amenities for Mateya Safari Lodge
General Information
5 Guest Rooms
Only 8+ Years Permitted
Dining
Outdoor Dining
Wine Cellar
Dining Room
Picnics
On-Site Amenities
Spa on Property
Library
Fitness Center
Art Collection
Boutique
Music & Movie Library
In-Room Amenities
Air Conditioning
Private Pools
Open-Air Bath
Private Decks
En-Suite Bathrooms
Activities
Ecological Excursions
Nature Walks
Wildlife Viewing
Four-Wheel Drive Excursions
Bird Watching
Game Drives
Interests
Active & Adventure
Summer Getaways
Reviews for Mateya Safari Lodge
---
Wonderful place to be spoiled and experience the best that the bushveld can offer! Beautiful lodge, friendly staff, mouth-watering food and all over a very special experience. Would go back again next time!
---
This was not only the highlight of our two week vacation but one of the best we have experienced...again, primarily due to the wonderful staff. We (wife and 12 yr old daughter) were celebrating my birthday and stayed here for 4 nights 5 days. The lodge is very private with only 5 villas. We stayed in Suite 2 (each suite have their own pool, which I enjoyed daily). We were wowed by the first moment we arrived and felt not only like we were the most important people there but like family. The grounds and suites are truly luxurious with ample African antiques and decor. The layout makes every seating area a feast for the eyes and every suite seems to ensure total privacy. The cleaning staff was amazing as turndown, laundry services etc were done without us ever knowing. The food was absolutely fantastic and every night we were treated to a new location for dinner by candle light. The game drives were truly a joy as not only did we get to see many endangered species (saw a serval, very hard to spot) like wild dogs, lions, cheetahs, rhinos, and hyenas (they were feeding on an elephant carcass at night) but also a slew of others. The drives were everything our family could wish for and their vehicles are the best around: max 4 per vehicle, though we had the vehicle to ourselves the whole time as did the other guests. The vehicles were brand new and only had two rows of seating for guests while all the other lodges had three rows (for the same size vehicles). This definitely allowed us much more comfort. However, the true gem was the staff from our server Maxwell to the wonderful ladies Stacey and Christine who greeted and took care of us everyday to our fantastic ranger (Verner) and his tracker (Paul). They took care of all our concerns, like when we went on a bush walk, we could not take our daughter due to her age. However, the wonderful ladies took care of her and made us feel so comfortable that she was in good hands. Lets say that all three of us want to go back again,,,now!
---
My wife and I went on our 25th anniversary and what a beautiful place to go!! The guides were fabulous and the wildlife that we saw was a bucket list thing to see. I would highly recommend Mateya lodge to anyone!! The food we were served was superb and the staff was so courteous and helpful. We will definitely be returning ASAP. I myself really enjoyed the private pool and had a dip daily.
LindaAtlanta - Atlanta, GA
---
We spent 3 nights over the holidays at Mateya and it was amazing. The art, the facilities, the hospitality and the guides were world class. Every wish was catered to and the safari views were breathtaking. I can't say enough about our stay. I can't wait to go back.
Jonathan T - Chicago, Illinois
---
Can't say enough about this beautiful place. when you arrive your breath will be taken away. everything about this place, the lodging, nature , the food ,the service , friendliness of the staff - is out of this world! it is unbelievable that this group of people can maintain such a high standard of service. We are so happy with our experience and feel like we were treated like royalty. the amenities , the rooms and the service were impeccable and the highest standard you can imagine .The game drives were amazing .we got to see incredible sites led by a very knowledgeable guides in the most luxurious setting.very very very highly recommended we will definitely be back!
---