Please select your dates to see prices:
---
Morgan's Rock in Playa Ocotal, Nicaragua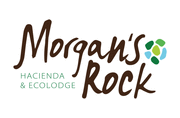 A suspension bridge cuts 150 feet through thick rainforest vegetation filled with howler monkeys and three-toed sloths to connect Morgan's Rock to the outside world. Built on cliffs overlooking a private cove, bungalows in this nature-centric conclave are spacious and rustically sumptuous. Managua-based Simplemente Madera constructed certified-sustainable furniture from local hardwood, and native artist Augusto Silva honors Tunu culture in his colorful paintings. Relish an early morning yoga session at a beachfront pavilion and a solar-powered hot shower to end the day.
Sip a cup of coffee on your balcony surrounded by the creature calls of the rainforest. Spot a florescent parakeet darting through the canopy. Go for a quiet hike or raise your adrenaline by kayaking the estuary. Visit the organic farm and help harvest your dinner's ingredients. Learn to make tortillas with the resident cook. Watch a stunning sunset from a cliffside vantage point.
Location of Morgan's Rock
Morgan's Rock
San Juan del Sur 505
Playa Ocotal, Nicaragua
Nearest Airport: MGA
Amenities for Morgan's Rock
General Information
15 Bungalows
Ecologically Sustainable Practices
Dining
Restaurant
Bar & Lounge
On-Site Amenities
Pool
Spa Services
Laundry Service
Private Beach
In-Room Amenities
Outdoor Showers
Private Decks
Activities
Fishing
Kayaking
Mountain Biking
Scuba Diving
Nature Walks
Yachting
Surfing
Wildlife Viewing
Bird Watching
Zip-Lining
Horseback Riding
Nearby
Beach
National Park
Nature Reserve
Interests
Active & Adventure
Beach
Lodges & Ranches
Reviews for Morgan's Rock
---
We just wrapped up a four night stay here and wish we could have stayed longer. We stayed in one of the two bedroom villas with private pool overlooking the ocean. It was amazing. Each of our two rooms (Villa 2) were open air and nicely appointed with outdoor and indoor showers, minifridge, sitting areas and king size beds overlooking the ocean. The rooms were connected by a beautiful courtyard sitting area and private plunge pool. The resort's private beach is also spectacular with ample palapas for shade, hammocks, lounge chairs, towels and bar and drink service. Other beach amenities include boogie boards, paddle boards, kayaks, and beach toys. There is a spa on the beach and yoga three days per week. The community pool is right next to the restaurant which has sweeping views of the bay. The service and the food at the onsite restaurant are amazing and every member of the staff is kind and helpful. The menu changes each day, and if you can't find something you like, the chef will make you something that works for you. Things to note, the bungalows and villas are built on the side of a hill overlooking the ocean. The views of the ocean are beautiful, but you have to work for those views. Expect to climb 100+ stairs to your room. The stairs are made of concrete and are very even and sturdy and the pathway and stairs are well lit and easy to navigate even at night. We love to walk and enjoyed the climb but it could be a detriment to some. Also, the hotel is about a 20 minute drive down a dirt road from the nearest town - San Juan del Sur. We enjoyed the secluded environment, but if you are looking for city nightlife scene, this isn't the place for you unless you don't mind the drive. We went into town one day for lunch and shopping and it was a perfect balance for us. Our children (15, 12, 9) had a fantastic time here and were sad to leave. They aren't picky eaters and could order off the menu most nights, but they always had chicken fingers and burgers and pancakes! They loved the beach and went every day to swim and boogie board. We brought our own skim boards and the beach was perfect for it. The resort offers day trips and tours. We didn't take advantage of any of them as we were enjoying the property. We highly recommend Morgan's Rock!
CMini74 - Liberia, Costa Rica
---
Having just returned from a 4 night stay at Morgan's Rock. I can say with certainty that we hope to return someday. Multiple times throughout our stay, we remarked to each other something to the effect of "how do more people not know about this place?" We stayed in an Ocean View Bungalow w/out plunge pool (Bungalow 5) and absolutely loved our room. We had planned to move to an ocean view bungalow WITH plunge pool halfway through our stay but upon seeing our view we asked to stay. The bungalows w/out plunge pool are literally directly above the ocean - you could play catch with someone on the beach from your balcony - with far fewer steps down to the beach or to the pool/restaurant. Sunsets from the swinging bed on our balcony were truly unforgettable. The construction of the bungalows is very unique and the combination of ocean breeze with the ingenious "AC unit" above the bed made for a very comfortable sleep. It was truly one of the most comfortable beds we've ever slept in, and waking up to waves crashing just below you felt like a dream. We spent most of our time on the beach, in the water or in one of the beach huts (as the sun was incredibly strong.) The water was a comfortable temperature and the waves were big enough to bodysurf in. Some afternoons we would stay in the ocean for hours on end! Not a great break for surfing, but the staff can arrange transport to Playa Maderas if you are looking to surf. The beach bar was always staffed and cocktails/drinks were reasonably priced. As noted, the food was pricey but breakfast was included and was substantial enough to keep us full until dinner time. A few points of improvement would be on the menu - it did change constantly while we were there, but with four entree options a night, if you hit it on a night where nothing appeals to you, you're a little stuck with some of the options. That being said, the waitstaff (and really all of the staff) were truly a high point at MR and I am sure if asked would provide an alternative to a menu item. Another area of improvement would be the variety of activities offered. The boat was out of service so a lot of the activities we had planned to do were off the table. We ran on the beach most mornings and planned to walk around the property (which you can do without a guide, I believe) but ended up getting sidetracked at the beach bar. We did arrange for a transfer into SJDS one day and hiked up to the statue of Christ overlooking the town before grabbing lunch and some beers on the beach. SJDS was a cool town but the beach was pretty dirty (which we were prepared for) and no one was swimming so we were thrilled to return to our pristine private beach when our excursion came to a close. One thing to note - we were traveling as a couple (mid 20s) and nearly all of the other guests were families with kids. It wasn't necessarily a negative as it was cute to see kids running around and having a blast in the ocean but just be aware. We usually timed our dinners a little later and usually most of the families with young kids had headed to bed by the time we sat down. Overall, our 4 nights at MR were nothing short of magical. Yes, the food is a little expensive. Yes, there's quite a bit of bumpy dirt road to get you out there. But being there feels like a once in a lifetime experience that makes those "negatives" just melt away. On a final note, it says a lot about a property when you spend some time talking to the staff about their experience working there. A member of the activities team, Franklin, was driving us back from San Juan del Sur, and we asked him how long he had been with Morgan's Rock. His enthusiastic answer: "five years, and I hope for many more!"
gb415 - New York City, New York
---
Morgan's Rock is beautiful. The managers and staff are extremely friendly and are the type of people you truly want to befriend and get to know. The pictures do not do justice to how beautiful the rooms and views from the rooms are. It was hard to tear ourselves away from our own stunning view, but the beach area is incredible and we spent an entire lazy day listening to the crashing surf under one of the beach huts swinging in a hammock. There are plenty of large beach huts, therefor, unlike some resorts, you don't have to get up at the crack of dawn to claim a spot. The food is amazing. Yes, as other reviewers have said, it is expensive, but it is also special. It is definitely the best food we had during our entire stay in Nicaragua. We went on an easy self guided walk along the main roads and saw two big groups on monkeys- spider and howler. All in all, an absolutely magical place!
cmsjbc2013 - Houston, Texas
---
We visited Morgan's rock after coming from Pacaya lodge (highly recommend staying at paying on the way to/from the pacific). The first night we were slightly overwhelmed by the heat and bugs, but by the second day we had adjusted, and enjoyed our stay thoroughly! We did switch to a room with a dipping pool, which helped with young kids, especially in the afternoons in getting them out of the heat and up to the rooms for naps. Once we switched rooms, the bugs were no longer an issue, i think it's kind of luck of the draw... Food was good, not great (other than breakfast, which was really good). Guides were great, Juan Bosco was very patient. Be prepared to drop a fair amount of dinero though, meals always exceeded $100 without much alcohol. Lots of excursions to do, however boats were out of commission so that was slightly disappointing. We tried horse back riding, surfing twice, breakfast on the farm (highly recommend with kids). They claim it's tech free, but everyone has WiFi and access to power outlets so tablets and phones are used by all...all in all, great experience, would do again!
Travelmonger31 - Atlanta, Georgia
---
Let me start off by saying that Morgan's Rock is a beautiful place with a wonderful staff. Some pros include the beach, pool, and rooms are very secluded. Rooms are nicely designed and the staff is wonderful. The spa was also great (thank you Keyla). The French owners are who I blame for making me dislike this place because they're in charge of prices and policies. The eco lodge is about a 30 minute rough ride in the mountains from San Juan Del Sur. Breakfast is offered for free (thank god)! The first day we had to pay for breakfast because we weren't technically checked in $40 for 2 small egg sandwich's, coffee, and juice. That's more than I'd pay at a hotel in Manhattan NYC. We then ordered lunch...split the small Caesar salad in half this time because it was $14. The receptionist advised us that we could get rides into San Juan so we were going to town every day for dinner and sometimes lunch. Every time you're charged for something at this lodge you have to sign for it. Well guess what...for some strange reason you're not told and don't have to sign anything to go to town. Oh but just wait until you receive the bill at check out $60 round trip each time you go to town. So you're stuck 30 rough driving minutes (you definitely can't walk) at Morgan's Rock (which is a nice place) but either you're gonna go broke paying for food there or go broke getting a ride to town for affordable food. No thanks! The manager did take the price of the rides off of our bill (about $400). Good thing he did that because I would of lost my mind. Sadly the Nicas will never be able to enjoy this eco lodge because they'll never be able to afford it, I would've never stayed at this place knowing this. I was going to give 2 stars but since the manager fixed our bill at check out I'm giving it 3 stars. I would not recommend this place to anyone I care about.
Jea201 - River Edge, New Jersey
---