Please select your dates to see prices:
---
Cotton Tree Lodge in Punta Gorda, Belize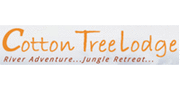 There are few places on the planet where nature's greatest achievements on land and water come together to create paradise - and even fewer that also happen to be home to a luxurious lodge. Cotton Tree Lodge in brilliant Belize is just such a rarity. Nestled within the Belizean rainforest on the banks of the Moho River, the environmentally-friendly Lodge sits at the base of a towering cotton tree. A perfectly secluded spot in the heart of the rainforest, the Lodge gives you a chance to immerse yourself in a tropical dream.
Individual cabanas with thatched roofs are surrounded by the fig trees. Enjoy your view of the river from the comfort of a hammock swinging on your own private veranda. At night take in the calls of exotic birds, the gentle hum of the river on its journey to the sea, and the roar of monkeys in the distance, as you drift off in your soft bed. Take trips guided by knowledgeable staff into the rainforest where you can explore caves, myriad flora and fauna, Mayan ruins and the Mojo River itself. The Lodge can arrange for scuba diving excursions in collaboration with Reef Conservation International in Sapodilla Cayes Marine Reserve. At the end of each day of adventure, join other Lodge guests in a festive organic Belizean meal on the main deck, and watch the sun set into the trees.
Location of Cotton Tree Lodge
Cotton Tree Lodge
Moho River Toledo District
Punta Gorda, Belize
Nearest Airport: PND
Amenities for Cotton Tree Lodge
General Information
10 Guest Rooms
On-Site Amenities
Hiking Trails
In-Room Amenities
Ceiling Fans
Private Verandas
Screened Windows
Activities
Kayaking
Canoeing
Nature Walks
Boat Excursions
Interests
Active & Adventure
Lodges & Ranches
Reviews for Cotton Tree Lodge
---
Loved, Loved Loved our stay!! Our Cotton Tree Lodge stay felt like being in a piece of heaven. Upon arriving you are welcomed by the beauty of the grounds and the kindness of management and staff. The lodge where we gathered and ate the most incredible four course meals is in itself a work of art. The cabana's felt like we were walking into a travel magazine.. The cabana's overlooked the river, which we daily spent time swimming and swinging from the rope swing. We started our amazing day off with yoga by the river with Parama. Valarie the manager was always a step ahead of our needs and wants. She and her staff were always so pleasant and accommodating. Again, Loved, Loved Loved our stay!!!
---
We visited Cotton Tree Lodge in 2010, and were back for four nights at the end of April/early May this year. We enjoyed Cotton Tree just as much this time as eight years back. Changes we noticed to Cotton Tree, included a much larger garden for which the fruits and veggies are utilized in their meals; there is a wonderful therapeutic massage therapist who works part time on the grounds, and who I greatly appreciated; and there are more cultural activities/tours available. We stayed in cabana 6, "Indian Creek", which overlooks the Moho river, and included two double/queen size beds and bathroom. The meals in their restaurant were delicious and included local Belizean dishes, and staff were accommodating to food restrictions. They also had amazing Piña Coladas and coconut Daiquiris. There was no available Wi-Fi, although this is not surprising for being in the jungle. My husband's phone however, had a data plan and was not dependent on Wi-Fi, so he was able to access Internet and email from his phone. Cotton Tree Lodge is in the jungle - about a 45 minute drive from Punta Gorda- and so there are bugs, mosquitoes and other flying insects, as well as snakes. In fact, this trip, we had a bat that had made its way in through a small hole in the thatched roof into our cabana, possibly from a neighboring fig tree. Staff very graciously offered to try to remove the bat, but we asked that he/she remain there until we leave as it seemed to be dining on the unwanted insects, and we enjoyed watching the bat each night. Highlights on this trip included a walk into the jungle with Armando, when we first arrived, who was able to locate a family of howler monkeys for me, and a trip to a Mayan ruin that is currently being excavated in one area, by a well known archaeologist in the field. We also enjoyed a visit to a local farm where we learned how to make chocolate paste and nibs from the cocoa beans. Another morning, we kayaked down the Moho river, where we were able to see a large iguana, many interesting birds, and more howler monkeys. We were grateful to our guide, "Pop," who located the howler monkeys, and for the late afternoon boat ride down the Moho river to the ocean. Further, it was fascinating to hear the Ket'chi and Mopan languages being spoken, and to learn some of the words and phrases from these Mayan languages. We are ever so thankful for the wonderful hospitality of all of the staff, (and the intern!), for such a wonderful experience and jungle stay, and thankful to Armando, for locating an aloe vera plant from the garden, which helped in relieving the mosquito bites we encountered during our walks in the jungle!
---
Cotton Tree Lodge was beautiful! The food was fantastic and I'm a foodie! The rooms were clean with the typical jungle insect visitors. You just have to enjoy the experience! The howler monkeys didn't disturb my sleep and were fun to hear. There was enough light to get around but I took a flashlight because I like to have one around. The staff was AMAZING and so helpful. There was so much to do and so many fun things to choose from. The lunches they packed for day trips were delicious. If you've driven a normal dirt road in the Rocky Mountains the dirt roads of Belize are the same.
---
Cotton Tree Lodge is a WONDERFUL place to stay. The staff is amazing and will go above and beyond to make your stay great. They book your day solid and make sure you have the time of your life. I would recommend to anyone who loves nature and loves the outdoors. I will definitely be back!!! The howler monkeys and bugs were the worst part but if you wear bug spray you will be great! Definitely bring ear plugs as you can hear everything with the screen-windows but it is so worth it!
---
This was our first trip to Belize and the second of 3 places we stayed. It definitely ranked highest as to setting and Lodgings . Cabanas were fab. But the cost of the meals and extras (we did not book it as an all inclusive) were out to lunch. $10 U.S. for an hour rental of the kayaks. $28 U.S. for a stingy dinner that left us hungry. $11 for breakfast. At least it was a decent breakfast. But Good lord I found better prices in Hawaii for similar items. The first two days the coffee perk didn't work, (lifted the lid and the grounds were dry) but no one checked until I told them and no one else noticed. Maybe cause the 3'rd day the coffee wasn't a great improvement...lol' After the first (and last) dinner we drove the long and bumpy road out to eat and found some great local spots that were much more satisfying and considerably less pretentious.. Cotton Tree also had the highest cost for beer and drinks on the whole trip. Having said that the staff were very helpful and pleasant and we really enjoyed the river, both kayaking and swimming. Howling at the monkeys in the jungle house was one of our highlights that still keeps us chuckling as was staying in the well appointed cabanas. Loved the view from inside looking out. One of the reasons we booked was because of the morning yoga. Unfortunately no instructor made an appearance in the 3 days we were there.Which can happen, but it seemed a non issue to the staff, so it made me wonder if they advertised falsely. One of the mornings, we met another couple who were showing up to do some anticipated yoga too, so we all stretched together. So it was nice to meet others who had similar anticipations.. This is the first time I have ever written a complaining review. It takes a lot to rattle me. I don't understand all the 5 star reviews and going on about the meals. This would not be a place I would come back to, even if the cabanas and grounds were delightful.
---