Please select your dates to see prices:
---
Mountain Lodge at Telluride in Telluride, Colorado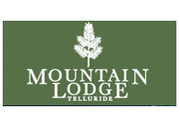 In Colorado's premier resort town, capture the feeling of having your very own alpine retreat with a stay at Mountain Lodge at Telluride. Those looking for all the comforts of home amid spacious surroundings will enjoy the hotel's selection of luxury cabins, each housing three to six bedrooms, gourmet kitchens, vaulted ceilings, ample-size balconies and patios with fireplaces. Hotel suites and condominiums are another option, boasting their own luxurious amenities throughout, and slopeside lodge rooms are ideal for quick trips. Enjoy premium services with a touch of a button, including in-room massages, babysitting, provisioning service, or private dinners.
For an impressive experience, head to The View restaurant and lounge, aptly named for the magnificent vistas enjoyed beyond its wall of glass. The environment is rustic elegance at its best, with a soaring timbered ceiling and a crackling fireplace constructed of stone. The restaurant is open for continental-style breakfast, lunch and dinner with aprčs-ski happy hour and evening wine tastings. Enjoy a dip in the heated, year-round swimming pool or a bubbly soak in the outdoor whirlpool. Then take refuge in the steam room or stay active in the state-of-the-art fitness room. For added convenience, Mountain Lodge at Telluride offers complimentary gondola shuttle service and transportation to the nearby market. Plus you can rent ski equipment on-site before you hit slopes. Whether you arrive in the winter for snowy adventure or during the summer to fly fish, hike and enjoy the Colorado outdoors, you will find that Mountain Lodge at Telluride has a wealth of amenities for every vacation.
Location of Mountain Lodge at Telluride
Mountain Lodge at Telluride
457 Mountain Village Boulevard
81435
Telluride, Colorado
Nearest Airport: TEX, DEN
Amenities for Mountain Lodge at Telluride
General Information
97 Guest Rooms
Pet Friendly
Connecting/Adjoining Rooms
Dining
Restaurant
Bar & Lounge
On-Site Amenities
Concierge
Shuttle Service
Housekeeping Service
Fitness Center
24-Hour Front Desk
Outdoor Whirlpool
Outdoor Heated Pool
In-Room Spa Services
Ski Concierge
Provisioning Service
Ski-In/Ski-Out Accessibility
In-Room Amenities
Private Patios or Balconies
CD Players
Direct Dial Telephones
Iron/Ironing Boards
Whirlpool Bathtubs
Coffee & Tea Facilities
Luxury Bath Amenities
Fully-Equipped Kitchens
Activities
Bicycling
Hiking
Kayaking
Wine Tasting
Mountain Biking
Canoeing
Fly Fishing
AlpineSki
Snowmobiling
Ice Skating
Cross Country Skiing
Snowshoeing
Sleigh Rides
Dog Sledding
Snowboarding
Business
Meeting Rooms
Business Services
Nearby
Historic Sites
Shopping
Art Galleries
Restaurants
National Park
Interests
Active & Adventure
Family
Hotels
Lodges & Ranches
Ski & Snow
Winter Getaways
Reviews for Mountain Lodge at Telluride
---
One of my goto places. Love the kitchen so I prepare my meals. Pass through fireplace allows ambiance thorough out the room. Chef Bud menus are always tops. Valet is a good idea here. The view from hot tub is great. Once in the summer caught a double rainbow with the mountains in the background.
Scott R - Denver, Colorado
---
When travelling from Australia to a ski resort as impressive as Telluride, choosing accomodation can be daunting. Knowing where to stay is key to having the best experience possible. Happily, we chose well in Mountain Lodge. Our 1 bedroom, 1 bathroom condo was a compact suite with amazing views from both the lounge room & bedroom. Like most American condos in which we have stayed, we found the decor & kitchen quite dated with dark timbers, dark wall colours, colour ceilings, dark furnishings & poor lighting. Whilst this is obviously what is popular in the US, we find it challenging as we are accustomed to more modern, lighter, brighter accomodations in Australia. We stayed in 3106 in a building called San Sophia. Access to the ski slopes, the reception area, restaurant & free shuttle is very easy & our only criticism is that this condo needs a new lounge & some champagne glasses! The lounge is quite uncomfortable, but was tolerated because the view is so good. The staff at Mountain Village are all extremely pleasant, helpful & knowledgable. We didn't use the pool area, but heard very positive comments from other guests who did use it. All in all, Mountain Lodge is a very good place to stay!
sammac0110 - Sydney, Australia
---
The Mountain Lodge bills itself as "ski in, ski out", which it sort of is, but not really. There's one "bunny hill" type slope that you can ski down from the lodge and get to a lift that will take you to the main part of the mountain. Otherwise, you can walk the 300 yards or so (or take their shuttle) up to the gondola station and go from there. The lodge itself is a strange configuration. The main building houses the reception area, a bar and restaurant, a conference room, the pool/spa and the fitness center. All of the guest rooms and condos are in different buildings; some more convenient to the main lodge than others. Parking is extremely limited and costs $20/day, so I recommend using the valet parking service, which is the same price. Be prepared to do some walking to get from your condo to the lodge. The guest rooms are tiny, as are some of the condos. We rented a 2 bedroom condo, which had a very small kitchen area and a living room that would only accommodate 3 people. If you have 4 or more people, you will want to upgrade to the deluxe condo, which is much more spacious. The rooms are done in a typical mountain lodge decor and are in decent shape, although there are signs of sub-par workmanship, such as sloppy caulking in the bathtubs (my tub was stained with caulk.) The tubs are also very high and difficult to get into, so if you have limited mobility, request accommodations or a bathroom with a shower stall. The bathroom vanity lighting is horrendous. There is only one, dim overhead light and zero lighting above the mirror. There is one tiny wall sconce that doesn't illuminate anything but the sink. I had to use a flashlight to see well enough to apply makeup. The staff was generally polite, though our guests reported some less than friendly interactions. They were fairly responsive to requests, though they forgot to move my luggage when I changed rooms and I had to call and remind them. Several of our guests also reported issues like heaters that were not working, leaky faucets and the like. The staff did attend to those matters when asked, however. The food was pretty good, but overpriced, which is par for the course in Telluride. In sum, it's not bad but I would expect nicer finishings and more attentive staff for the price. I don't think our group will return there.
Joy H - Billings, Montana
---
From the quiet location steps from Mountain Village to the excellent restaurant and friendly staff, this place has everything you could want in Telluride accommodations and the price is extremely reasonable. I traveled with my husband and stayed here last week and have booked a summer trip to stay here with our three teenagers. We would not stay anywhere else!
---
I stayed at the Mountain Lodge in Telluride 6 days and 5 nights for a work conference. To make sure I got the most out of my trip, I called the concierge service a few weeks beforehand to get a layout of the region. When I called I spoke with Joe who was beyond helpful in giving me places to eat, shop, and check out in both Telluride as well as the surrounding area. I stayed in a small room with one queen bed, which was sufficient as I wasn't spending much time in it anyway, however I can see where it might be a taaaad smallish for two people (or a family) but the amazing views out of my window more than made up for it! My co-workers stayed in a suite which was beautiful, and had more than enough space for multiple families. My ONLY gripe was they didn't have a microwave in my room (but my co-workers in the suite did so I simply used theirs) but if that's my chief complaint after 6 days I think the Mountain Lodge did a great job! I would absolutely stay here again whether I was in town for business or pleasure. Thanks again Joe!
Gatoronthemove - Ocala, Florida
---