Please select your dates to see prices:
---
Four Seasons Resort Palm Beach in Palm Beach, Florida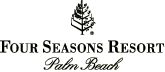 Soak up the brilliant sun, feel soft white sands between your toes and breathe in crisp ocean air when you arrive at the Four Seasons Resort Palm Beach. Surrounded by lush tropical gardens on South Florida's Atlantic Coast, this luxurious resort seamlessly blends urban comfort and sophistication with tranquil and relaxing beach living. Spacious rooms are bright and airy, showcasing pristine whites and lovely cream tones with charming elegance. Enjoy rich marble bathrooms with deep soaking tubs and the supreme comfort of deeply plush beds. With incredible amenities and impeccable service, each day is completely yours. Immerse yourself in the tropical beauty of Southern Florida, relax, and enjoy Four Seasons Resort Palm Beach.
Wake to sound of gentle waves and make your way down to The Ocean Bistro for a delightful morning meal. Stroll right onto the beach and get settled on the perfect spot to stretch out and read a good book. Later, dip in to cool surf, cruise along the coast in a kayak, try your hand at windsurfing, or enjoy some casual snorkeling. Take a day trip diving at amazing reef spots, or out onto the open ocean for some exciting deep sea fishing. In the afternoon play 18-holes at nearby Atlantis Golf Club, or venture out to the Worth Avenue District for a day of upscale and boutique shopping followed by a performance at The Borland Center or the Palm Beach Opera. Return to the resort for the perfect dinner at The Four Seasons Restaurant. Savor amazing fresh seafood and scintillating tropical cuisine paired with the perfect cocktail or glass of wine. At Four Seasons Resort Palm Beach, every moment of each day in unforgettable.
Location of Four Seasons Resort Palm Beach
Four Seasons Resort Palm Beach
2800 South Ocean Blvd.
33480
Palm Beach, Florida
Nearest Airport: PBI
Amenities for Four Seasons Resort Palm Beach
General Information
210 Guest Rooms and Suites
Dining
Outdoor Dining
Private Dining
3 Restaurants
2 Bars
Room Service
Pool Wait Service
On-Site Amenities
Concierge
Pool
Spa on Property
Heated Pool
Gift Shop
Fitness Center
WiFi
Game Room
High-Speed Internet Access
Valet Parking
Outdoor Pool
Golf Course
Tennis Courts
Personal Trainers
Outdoor Whirlpool
Pool Cabanas
Outdoor Heated Pool
Laundry Facilities
Steam Room
Golf Academy
18-Hole Golf Course
24-Hour Concierge
24-Hour Fitness Center
In-Room Amenities
Bathrobes
CD Players
Hair Dryers
In-Room Safes
Televisions
iPod Docks
Marble Bathrooms
Activities
Bicycling
Deep Sea Fishing
Fishing
Kayaking
Sailing
Tennis
Windsurfing
Scuba Diving
Snorkeling
Yoga
Golf Lessons
Yachting
Fitness Classes
Boating
Sightseeing
Golf
Business
Meeting Rooms
Conference Facilities
Business Services
Family
Cribs
Babysitting
Highchairs
Playpens
Children's Amenities
Children's Menus
Arts & Crafts
Nearby
Shopping
Zoo
Art Galleries
Museums
Restaurants
Polo
Parks
Shopping Mall
Theatres
Interests
Active & Adventure
Beach
Culture & Arts
Family
Golf
Reviews for Four Seasons Resort Palm Beach
---
5 stars all the way. We were in Palm Beach for Barrett- Jackson car auction with friends. The hotel is beautiful with a wonderful Oceanside address. I was slightly worried due to a couple of reviews o had read on the age of the building. Do not worry it adds to the elegance in my opinion. I was not disappointed. Service was as good as it gets also !!
---
Family just back from our spring break trip to Palm Beach Four Seasons. My wife, 12 and 10 year old daughters spent the week on the beach. After struggling to decide between the Eau, Breakers and Four Seasons boy did we make the right decision. The top three things that made our trip were Service, Service and Service. The property was immaculate, the beach was private and wonderful and the food was some of the best we had all week but in the end, the service made all the difference. My wife and I both run businesses and we always really appreciate the finer details of great service that makes a difference and I would be writing all night to include them all. Let me start with the room upgrade. There was a private party the first night that had a band ( a good band ). They played until around 10PM and we could hear it out our window. The next day I mentioned to the front desk that if the band was going to play again tonight I wouldn't mind moving to a similar room away from the music. They said it was just for the night and were very apologetic. The next day we were at the pool, with once again ridiculous service, and I get a text from the manager asking if we had a better experience or were still interested in moving. I said we would love to get an upgrade if one was available and sure enough they moved us to an upgraded room that was just ridiculously nice. They didn't have to do this but they made us feel like it was the least they could do. The pool was another story. It was a clean simple pool, but the amenities crushed. Great wine, smoothies, towels, chairs and sunscreen for all. I tried to clean my sunglasses with my shirt and was immediately greeted with glasses cleaners embroidered Four Seasons wipes in a case. We ate at pool side every day overlooking the ocean. The food was incredibly creative, the kid food rocked and the wine was high end. The beach had games to play with the kids, all the beach stuff and ridiculous service, offering strawberry lemonades to the kids and the same with a little extra for the adults :). Of course we went in to palm beach a couple of times, hit the sites, ate some great food, try the Honor Bar, but always found ourselves ready to get back to the resort. I know tomorrow we are going to miss our morning family walks on the beach. Best vacation ever, thank you to all the staff, especially Mathew and Rachel for helping us make some incredible memories. We'll be back after your remodel this summer. Its hard to think of what you are going to improve
---
This hotel is TOP NOTCH. Great staff, amazing rooms, wonderful food and a great bargain for being ON THE BEACH in Palm Beach. You should feel really comfortable selecting this as you holiday destination. ENJOY!!!!
Unhappy C - New York City, New York
---
It was amazing and worth the money! I enjoyed the food and the hotel was very clean. The bathrooms are elegant and the bed was so comfortable. The most comfortable bed I have ever slept on. The breakfast the next morning was to die for.
---
While the rooms are smaller than typical for a Four Seasons, what you give up in space you gain in amenities. Four Seasons only has one customer service level: Superb. There is a terrific pool area just steps to the beach, convenient pool side bar and seating area overlooking the beach with plenty of shade. Staff thinks of things before you have thought of them! Breakfast on the patio with excellent service by Sean, you start your day with lots of menu options (healthy/vegan). The gym is large enough to accommodate whomever was there at any hour of the day. First class equipment in top condition with options for yoga or workouts by Susan. The beach is amazing with great waves and aqua water that was a perfect temperature even in late March. And just when you think you cannot be more pampered, here come the cucumber slices for your eyes and cool towels for your brow, and Gorgio on hand to clear away any smudges that may have found their way onto your sunglasses. Yes, the price tag is steep, but for pampering AND close proximity to Worth Avenue (usually via the house car), this was the perfect spot to unwind and relax.
---