There are no rooms available for this property, at this time.
---
Paws Africa Safaris in East Africa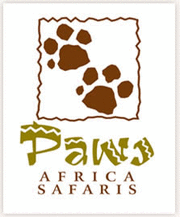 Operating for more than a decade, and providing travelers with one-of-a-kind experiences, Paws Africa Safaris features quality programs and exceptional accommodations in a variety of wilderness destinations. From Kenya to Tanzania and beyond, Paws Africa Safaris boasts a fleet of over 100 safari vehicles, ready to take you into the heart of the natural habitats and landscapes that make this region so globally acclaimed. With multilingual guides and customized itineraries, you feel comfortable in your setting at all times, and are able to venture to the places and sites you most desire seeing. Your overnight accommodations are set in carefully selected camps and lodges, where you can relax over dinner by the fire, unwind on a private patio enjoying the sunset, or slumber peacefully in your plush bed. And from fresh morning breakfasts to afternoon picnics and dinners with panoramic views, mealtime is always enjoyable. Journey to a land far away, for an experience you will not soon forget, with Paws Africa Safaris.
Choose an adventurous itinerary in Kenya, where you can discover the Big Five - elephant, buffalo, leopard, lion, and rhino - on an exciting game drive, or take a guided walk through the calm terrain. Paws Africa Safaris provides a variety of activities to suit every interest and inclination, including mountain biking, lion tracking, canoeing, and ranger-guided hiking. Pay a visit to a Chimpanzee Sanctuary, ride around the Ol Pejeta Conservancy, and stop by a traditional Maasai Mara village. In Tanzania, Lake Manyara offers a spectacular scene in the Great Rift Valley, as you venture through the national park, flanked by towering stone cliffs. This is also the place to spot giraffe, wildebeest, and elephant as they refresh by the water and wash in the adjacent river beds. Of course the renowned Serengeti National Park is an incredible destination in itself, and you are privy to even more wildlife and stunning geography in this magnificent natural sanctuary. Regardless of your locale, every itinerary with Paws Africa Safaris promises the knowledgeable staff and personalized service to make your vacation to Africa the trip of a lifetime.
Location of Paws Africa Safaris
Nearest Airport: NBO, JRO
Amenities for Paws Africa Safaris
General Information
Pets Not Permitted
Dining
Dining Room
Afternoon Tea
Picnics
On-Site Amenities
Multilingual Staff
In-Room Amenities
Bottled Water
Activities
Bicycling
Excursions
Hiking
Mountain Biking
Ecological Excursions
Stargazing
Canoeing
Nature Walks
ATV Tours
Wildlife Viewing
Cultural Tours
Elephant Trekking
Four-Wheel Drive Excursions
Bird Watching
Game Drives
Sightseeing
Nature Hikes
Nearby
Historic Sites
National Parks
Nature Reserve
Interests
Active & Adventure
Tours
Reviews for Paws Africa Safaris