There are no rooms available for this property, at this time.
---
Venice Simplon-Orient-Express in Europe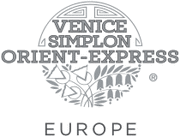 From Paris to London, Venice to Rome, and other fabulous parts of Europe, let the Venice Simplon-Orient-Express carry you in style, wherever you may choose. From a more elegant age, when travel was an adventure in itself, the beautiful vintage cabins of this train will transport you not just in space, but in time. Private cabins have been fully restored, with deep rich wood paneling, and classical designs. Each cabin is a plush lounge during the day, then while you are at dinner is configured into comfortable sleeping arrangements for overnight destinations. With a 24-hour steward, fabulous cuisine, and amazing history, the Venice Simplon-Orient-Express promises your trip will be an adventure you will remember forever.
In October of 1883, the original train set out on its first trip, and after a decline following World War II, new life was breathed into the carriages almost exactly 100 years later. Written about in famed novels and featured in Hollywood movies, the Venice Simplon-Orient-Express has an almost mythical quality - and with your trip you will become a part of its fabled history. Relax in complete comfort, sip a fine glass of champagne, and watch the beautiful European countryside glide past as you delight in luxury travel. Head to one of the three dining cars for brunch, lunch and dinner, and dine on fabulous meals crafted by highly skilled French chefs. Breakfast and afternoon tea are served in the privacy of your cabin, and there is the legendary Bar Car where spirits flow and good times soar. Delight in the warm lounge atmosphere, while the pianist plays sweet melodies from another era, then laugh, talk and drink the night away. As you arrive at your destination, stepping out from the carriage, look back and see the beauty, the class and the history of the truly spectacular Venice Simplon-Orient-Express.
Location of Venice Simplon-Orient-Express
Venice Simplon-Orient-Express
Reviews for Venice Simplon-Orient-Express