There are no rooms available for this property, at this time.
---
Israel Tour Connection in Israel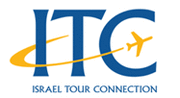 Israel Tour Connection has been bringing personal and unforgettable experiences to travelers for over 30 years. This family-run business treats you with care and grants thoughtful, personalized journeys in Israel for a variety of travel occasions. Whether you are traveling for faith, historical discovery, or simply a desire to explore the destination, Israel Tour Connection provides a custom fit vacation. A wealth of experience and knowledge support your travel endeavors, plus you are privy to all the services you would expect of a leading travel company. Israel Tour Connection handles everything from lodging and transportation, to educational enrichment programs and diverse entertainment. Relax in superior accommodations in trusted and well-established hotels, taking comfort in the amenities you need to make your time both memorable and relaxing. What truly sets Israel Tour Connection apart, though, is its distinctive and seasoned guides, who have outstanding credentials, energy and creativity. Always up to speed with current happenings as well as the timeless essentials, your guides will act as a passage to the inner spirit of Israel.
Start your experience in the exciting metropolis of Tel Aviv. This coastal Mediterranean city is the country's second largest town and the world's first all-Jewish city in modern times. Get an in-depth look at Israeli urban life, with its colorful markets, bustling business districts, and busy beaches. The Dead Sea - which gets its name due to the high mineral content of the water that prevents any sea or plant life from flourishing - is another must-do destination. Located in the Syrian-African Rift, its shoreline is actually over 1,300 feet below sea level, making it the lowest point of dry land on earth. Swim in salty waters, which for centuries have been touted for their medicinal properties, then learn about the important ecological factors that are causing the Dead Sea's shoreline to recede nearly three feet a year. Of course, you will surely find a highlight to be visiting Jerusalem and Jerusalem's Old City. A spiritual center for some of the world's largest religions, Jerusalem hosts visitors from around the globe, and Israel Tour Connection is the perfect niche travel company to offer an expert guide through its countless wonders. From the country's finest destinations, and to the less-traveled sites that offer a wealth of dynamic learning opportunities, Israel Tour Connection is your pathway to Israel.
Location of Israel Tour Connection
Nearest Airport: TLV, VDA
Amenities for Israel Tour Connection
Activities
Cultural Tours
Wine Tours
Sightseeing
City Tours
Nearby
Historic Sites
Shopping
Zoo
Restaurants
Interests
City
Culture & Arts
Reviews for Israel Tour Connection