There are no rooms available for this property, at this time.
---
Lernidee Trains & Cruises in Russia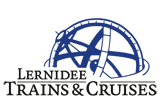 Imagine traveling along the world's most spectacular rivers, or traversing centuries old moss-topped mountain ranges, imagine the enchanting hues of the most exotic locales rushing by your window, and you will just begin to delight in the wonders of Lernidee Trains & Cruises. See the world in a way few will ever know with a ride on the legendary Transsiberian Railroad. Let Lernidee Trains & Cruises bring Beijing to you; experience Moscow for the first time from the tracks of your lavish accommodations aboard a private train. Begin your journey by choosing your cabin type, accommodations range from Standard to Bolshoi Platinum, each boasting superior comfort and dimensions twice as large as other European sleeping car compartments. Delight in the Old World charm of the plush sleeping quarters, and marvel at the elegant details of the intimate spaces, including eye-catching textiles and mounted televisions.
Travel seamlessly from Europe to Asia enjoying the dramatic changes of scenery as you indulge in a casual cocktail in the classic bar car, or taste the fare from the region of the evening with delectable on-board fine dining options. Lernidee Trains & Cruises not only delivers the world to your compartment, but upon arrival a knowledgeable guide will unearth the mysteries of each destination. Walk along the banks of Volga in Kazan, just days before exploring the infamous Tianamen Square, or travel Westbound and go from The Great Wall to Moscow. No matter which direction you choose, adventure awaits along the rails with Lernidee Trains & Cruises: ALL ABOARD!
Location of Lernidee Trains & Cruises
Lernidee Trains & Cruises
Amenities for Lernidee Trains & Cruises
In-Room Amenities
En-Suite Bathrooms
Activities
Cultural Classes
Educational Programs
Excursions
Boat Excursions
Sightseeing
City Tours
Interests
Culture & Arts
Family
Reviews for Lernidee Trains & Cruises