Welcome to Four Seasons Hotels & Resorts Collections
With a focus on continued excellence in service, as well as providing constantly evolving luxurious accommodations, Four Seasons Hotels and Resorts strives for perfection. For even the most discerning traveler, the elegance and style of Four Seasons Hotels and Resorts are enchanting and elegant in every location. With hotels around the world, in the most sought after destinations, travel is as comfortable and familiar as the home. From the bright lights of Las Vegas, the wonderful history of downtown Dublin, or the pristine white sand beaches of Hawaii, your stay will be as wonderful as it is unforgettable. As a guest of this fantastic collection, quality and luxury are guaranteed.
With properties featuring gorgeous designs, graceful style, and plush amenities, Four Seasons Hotels and Resorts ensures that each hotel in its magnificent collection is founded and operated around the principle of creating a fantastic vacation for every customer. While striving to always improve upon greatness, hotels and resorts boasting the name Four Seasons are among the most elite in hospitality worldwide. No matter where your travels take you, the comforts of a luxurious Four Seasons Hotels and Resorts property are not far away. Stay at any of the fabulous hotels around the globe, and enjoy the wonderful atmosphere, created just for you.Take a look for yourself!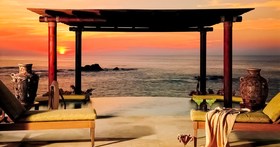 Punta de Mita, Nayarit, Mexico