Northern California Wine Country: Insights from invino's Danielle Westfall
By LL Editorial Staff
2012-04-25
invino
was developed by wine industry entrepreneurs Tony and Danielle Westfall. With careers deep-rooted in the wine industry, their passion for wine, vast network of contacts and experience in supply chain, marketing, operations and ecommerce led them to launch invino, the first members-only private sale company focused exclusively on the wine category.
Tony and Danielle Westfall
Part of the husband and wife team's Good Company Wines portfolio, which includes other online wine retailers and Marketing companies, invino has truly set the bar for online wine access.
Luxury Link's editorial team sat down with Danielle Westfall to get her insights on planning a memorable weekend getaway for first-time visitors to Napa Valley and nearby Sonoma County wine country, where invino is headquartered.
Q: Hi Danielle, thanks for spending some time with our Luxury Link community. Let's start with the basics: What's the best time of year to visit Northern California's wine country?
A: Can't say there's a "best" time... every season equally has its amazing reasons to visit.
From a personal perspective - my two favorite seasons are spring and fall. Here in Sonoma and Napa, and actually happening right now, it's the start of the vineyards' growing season. You drive down the highway or for that matter, any back road, and every vineyard is in rebirth mode, rich with bud break. The soil begins to dry and becomes warm, awakening the vine to begin to push water up from its root system. Tiny buds on the vine, formed the prior summer, start to swell, ultimately growing to become delicate shoots. It's a stunning and critical time for the vines, made that much more captivating with mustard thriving amongst the vines.
In fall - there's likewise a dramatic landscape to experience across Napa and Sonoma. It's the onset of grapes ripening, known as verasion. To me, a site that's unmatched, seeing the change of color of the grape berries is like nothing else. In one particular spot close our home in Carneros, driving from Sonoma to Napa as you approach Domaine Carneros, it's the very essence of picture perfect with the rolling hills covered in vines shaded in hues of scarlet, burgundy and gold. A time when Crush has just ended or is winding down (depending on the vintage), it's a subtle signal of the calm following the (harvest storm).
Q: Please give us an itinerary for your perfect day-long winery tour...
A: A question whose answers are dependent on the winery - I will tell you my (current) personal favorite itinerary looks like this:
Start with coffee and the amazing doughnuts at Boon Fly Cafe at the Carneros Inn. From there - leave and head up Hwy 29 to Rutherford to Raymond Winery. A winery full of acclaimed history, today it's proving to be a wine experience like none other.
I'd start my visit with an audio tour of the Theater of Nature. The largest educational exhibit on Biodynamic farming in the Napa Valley, its two acres to explore showcasing nature's actors divided into five acts, with each act devoted to a particular component of nature.
Then, I'd head into the private club, Red Room. Seriously, there's NOTHING like it! A completely luxurious tasting lounge, styled like a French boudoir, it's rich in luxury with a billiard room and other decadent features reserved especially members of the club (which is open to join).
After tasting at this private bar, lounging and playing, I'd then HAVE to end the day in the Crystal Cellar. My favorite wine cellar on the planet, it's part in vogue, dimly-lit, nightclub; part tank room; all adorned with
Baccarat Crystal
from ceiling to floor, leather and leopard print-clad mannequins and incredible techno. The first time I visited was as a guest of Jean-Charles (Boisset) the night he unveiled the room; since then, I've been back countless times. It's a spot that never gets tired.
Q: What are some of the best hotels in the area?
A: The thing about Sonoma and Napa is there really is an accommodation for everyone. Like the perfect winery visit, it's so personal depending on what you're in the mood for. For me, I love luxury, so a couple of spots stand out.
First is the
Kenwood Inn & Spa
. An intimate hotel that quite literally sits in the middle of some of the most stunning vineyards anywhere, it's private and elegant; refined with incredible service.
In the other direction (geographically) I love both the
Carneros Inn
and Bardessono. Both have incredible spas, and outstanding pools (particularly love the rooftop one at Bardessono!) and love the service. When I stay at either, I literally forget I'm 20 minutes from my home.
Q: What's your favorite Napa Valley restaurant, your favorite dish there and the perfect wine to pair it with?
A: So I have two top picks. As I don't eat any red meat and my husband (and biz partner) is a total carnivore) we love (and have for as long as I can remember) Cole's Chop House in Napa. It's one of those mainstay epicurean experiences. My husband loves the NY Steak; I always go for whatever the fresh fish is; we always have the Oysters Rockefeller , Classic Wedge Salad and the Chop House Hash Browns (with or without Onions - and sometimes have to bring one home for the next morning!
Pairing at dinner: we typically ask the Sommelier for his Sparkling recommendation to start and then (being in the wine business) bring a bottle of vintage Bordeaux that works for the entire menu.
My second pick - which is a top pick for our entire family (including our four and eight-year-old daughters) - is the Girl & the Fig on the Sonoma Plaza. I've been friends with Sondra Bernstein (Proprietor) and femme extraordinaire for years - but I can tell you, even if I didn't know her, this restaurant would rank at the top of my list. A Country French inspired menu that marries Sonoma farm-to-table principals, it's a treat for lunch, dinner and even brunch. My favorite menu for dinner (if I'm not doing the plat du jour), is the Wild Flounder Meuniere and profiteroles. Sondra's wine list here is focused on great Rhones; I love Viognier and Grenache and usually find at least one in my glass.
Q: Napa is obviously a romantic travel destination. If a gentleman is looking for the perfect location to "pop the question", where should he break out the ring?
A: Ahhh... what a great question! One of the most breathtaking spots that's totally a locals-in-the-know, is Bartholomew Park (aka, "Bart Park") in Sonoma. Nestled amidst the vineyards a few blocks away from the historic Sonoma Plaza, it's quintessential wine country, without a soul around.
Another great spot: anywhere on the incredible property at Auberge du Soleil Resort in Rutherford. I could get lost (and stay lost) there forever...
Q: How about "extracurricular" activities? We understand there are some great spa treatments in the area.
A: Spa is Wine Country's next favorite pastime... at least for me. While a few of the resorts (like Auberge du Soleil Resort) - say their spas are for their guests only - you can often call and get in... especially on weekdays. Beyond those, my top picks for a treatment or all day are: Meadowood Napa Valley, Fairmont's Sonoma Mission Inn and the
Carneros Inn
.
Q: What knowledge about fine wines should a first-time visitor take away from their trip to Napa?
A: Whether new to wine or a bona fide connoisseur, every winery has something new to share. New releases and vintages, new varietals, new winemakers... it's always something fresh.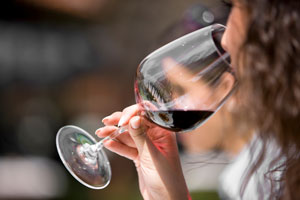 My goal every time I meet with a winery I know or one I'm just being introduced is to walk away with a nugget about the wine or the winery... something that connects me to their unique story and expands my palate. In other words - if I know I love Sparkling - I love to try varietals that are atypical to the methode champenoise.
Q: invino.com features an impressive array of wines from the region. What are some of the qualities your team looks for when adding a vintner to the site?
A: Thanks for the compliment. We work very hard to ensure the wines we offer our members meet our palate guarantee. Every wine (from around the globe) must present great QPR (quality price ratio). We're presented with (literally) hundreds of wines each week and our Panel tastes every last one (hard job, right?). Those that standout for quality to price - whether they're famed brands like Harlan and Stalin or under the radar gems from new winemakers and wineries, are the ones we secure for our Members. There's SO much good wine out there to discover!