By LL Editorial Staff
You've finally found that special someone with whom you want to share the rest of your life (or unforgettable Romantic getaway) with; so let the celebration begin! There's no excuse for this
amorous escape
to be anything less than extraordinary, and if you're like us, you're probably tired of cliché destinations and cookie-cutter romance. You want something different. So seize the occasion with a sense of style and start off on the right foot: with unconventionality, pizzazz and a touch of spice to heat things up. And because we know that everyone needs a little help sometimes, we've decided to lend a hand. Check out our picks for the world's sexiest unexplored
Honeymoon & Romance destinations
and allow yourself to fall in love all over again, and then once more.
Strip down and lather up your sun-kissed skin with coconut oil on a deserted beach in
Bali
. Welcome to
lover's paradise
, where silken ivory sand flirts with the crystalline tide of glistening warm waters that cocoon this immaculate Indonesian Island. Lush tropical forests border the breathtaking beaches, creating the sensation of exotic remoteness at its finest, and evoking barefoot elegance and sensuality that are as deeply serene as exhilarating. This is the perfect blend of class and mystery; nature and glamour; romance and sex appeal. In addition to its striking natural allure, the island is also renowned for its wide array of art forms, particularly handcrafts and performing arts. You can thus find the perfect native memento to commemorate your sweet escape, and watch (or partake in) sensate foreign dances and intriguing customs that'll get your blood pumping. And when the sun finally goes down, get buried in the plush sheets of lavish bedrooms at Bali's luxury hotels and resorts, such as the decadent
Jimbaran Puri Bali
, and from a delicate cloud of blankets watch the world around you slowly fade away.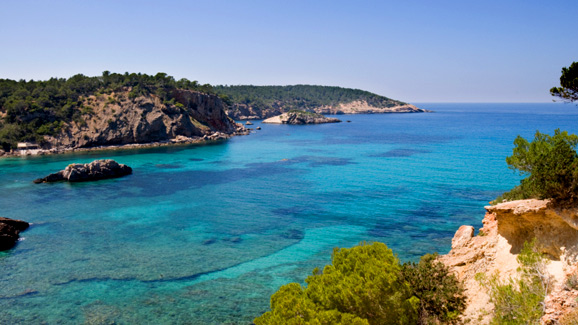 So you're the nocturnal types. When the sun finally drops, you finally retire from bed. And with your honey by the hand, you've come to celebrate your love affair--publicly. So shimmy on over to the tiny tropical Island of
Ibiza
and take the sultry night by storm. In this tantalizing Mecca for international DJs just off the coast of
Spain
, pleasure-seekers dance until the wee hours of the morning amongst the world's party-elite, sipping champagne from satin beaches as the sun rises over the pristine Mediterranean waters (breath-taking colors included, free of charge). And when you've finally had enough, unable to keep your eyes (and hands) off of each other a moment longer, escape into
seductive seclusion
of one of the island's many pockets of luxurious tranquility, where the only music rises from the rhythm of the crashing tide, and the thumping bass from your pounding hearts. Indulge privately in each other from the opulence of Aguas de Ibiza and together soak-up the sweet nectar of paradise offered by this versatile island that balances thriving nightlife and peaceful intimacy with perfect grace.