By LL Editorial Staff
If Latin is more your flavor,samba down to sexy South America to the exotic and remote Sibauma,
Brazil
in the part of the country's Rio Grande do Norte region. Lying beneath a seemingly infinite sky that mingles sensuously with the limitless horizon of the pristine sea, you'll have no choice but to be seduced by the
stunning natural allure
of this location, and of the person you've elected to have by your side. Sipping on a fruity cocktail from a carved-out coconut as palm trees sway around you, soft Portuguese lyrics wafting on the tropical air, a single word will come to mind: Paradise. You'll wish for time to stop. And if you elect to plan your romantic refuge on Brazil's Atlantic coast, Caesar Park Rio De Janeiro sits on the gorgeous Ipanema beach and is surrounded by the lush mountains of the Tijuca Forest. Turned on… to Brazil?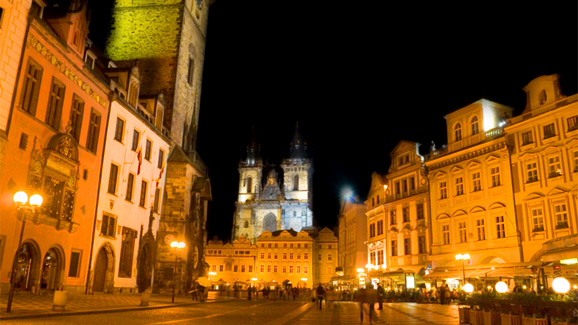 So you're not a beach person. Rather than sexy, you find sweaty sand on your skin to be exceedingly sticky, and not the good kind. But fear not—a sultry (and sand-less) lover's escape lies within reach. Deep in the heart of the Czech Republic awaits a precious jewel, the enchanting city of
Prague
. Sauntering hand-in-hand over charming cobblestone streets you and your lover enter a
romantic fairy-tale world
, replete with the magical silhouettes of ancient castles stretching across the attractive skyline. Stop time with a lingering caress in the middle of the picturesque Charles's Bridge or fall in love over a glass of fine wine as together you watch the setting sun kiss the aged copper cupolas of the city's breathtaking architecture with its last rays of light. And when you get hungry, head down (literally) to one of the city's numerous underground restaurants and cavern-like pubs for a savory bite to eat before seeking sensual refuge from the animate city in lavish lodgings, such as the
Aria Hotel
. So next time someone questions storybook romance or doubts happy endings, set them up a date with Prague.
We'll always have Paris, they say. We're over it. Nothing against Paris, it's a lovely city, but come on—everyone has it these days. And you can't have
romance
without excitement, or true love if it feels formulaic, and guess what: we think you deserve both. So whether you're looking to bask in the Balinese sun, groove until sunrise in Ibiza, vanish into the tropical air in Brazil or build castles in the sky in
Prague,
the world's sexiest Honeymoon & Romance destinations await to be discovered and infuse your
dream trip
for two with a little authenticity and a whole lot of flair. So step off of the beaten path and surprise them, with the unexpected.